Ditchling Beacon to Devil's Dyke
12 August. Seven intrepid hikers braved the blustery downs last Saturday. The day got off to a very friendly start as we shared a very crowded train with Luton supporters on the first day of the football season. The  views from the top of the 79 bus up to Ditchling Beacon were magnificent. Sadly, we had to get off and walk, with the wind against us of course.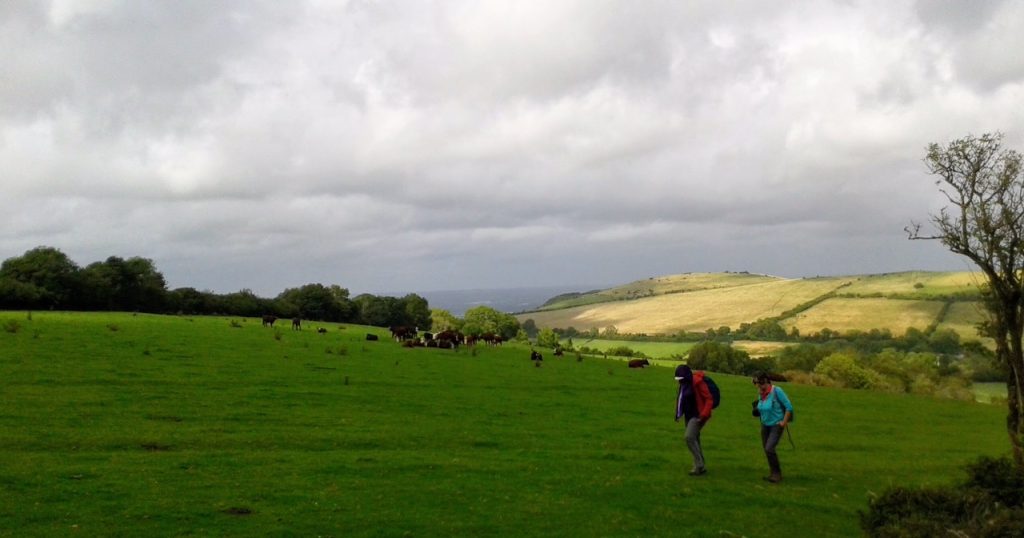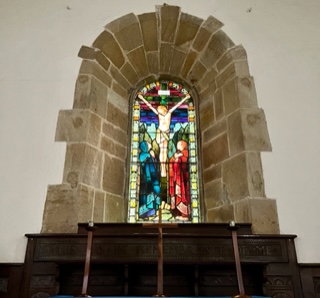 Window at Pycombe Church
We stopped late morning at the Church of the Transfiguration in Pyecombe. The church originates from the 12th century and is on the Pilgrim Route to Canterbury, offering travellers refreshment in the refectory. The Church entrance is notable for the 'tapsel' gate which swings from the centre with its  Shepherd's Crook handle made in the former forge opposite.
We made our way down a lengthy slip road to our lunch spot, the Farm shop at the end of the sprawling Wayfield Farm. (Just where have you hidden the right of way, Wayfield Farm?) The 'short cut' back up to the Downs was steep indeed. We hacked up a very steep hill aptly named 'Cow Down' before re-joining the South Downs Way at Newtimber Hill. The views opened up to offer tantalising glimpses of Devils Dyke. We treated ourselves to a second snack stop at the delightful Wildflower Café at Saddlescombe Farm before tackling the steep sides of Dyke.
At the Wildflower Cafe
The 77 took us back to Brighton, again from premier seats on the top deck before we tackled the joys of the transport system back to London.
Sue C. Thanks to Christine M and Virginia for photos.