25 February. On a rather chilly morning eight Morley Ramblers set off from the station at Egham, through the town and over the A30 to start the climb up Cooper's Hill, turning right to descend through the National Trust owned Cooper's Hill Woods and passing just beneath the Air Force Memorial that some members had visited a few weeks previously. There was, fortunately, rather less mud than expected and it was quite peaceful if you were able to ignore the rumble of the nearby M25.
Emerging on the hillside above the meadows of Runnymede there was a view of Heathrow in the distance and a hazier glimpse of the towers of London towards the east. We descended to visit the newest of the memorials at Runnymede, 'Writ in Water', an architectural artwork by Mark Wallinger in collaboration with Studio Octopi that, to quote the National Trust leaflet, "reflects upon the founding principles of democracy through a meeting of water, earth, sky and light, creating an immersive space for reflection and contemplation."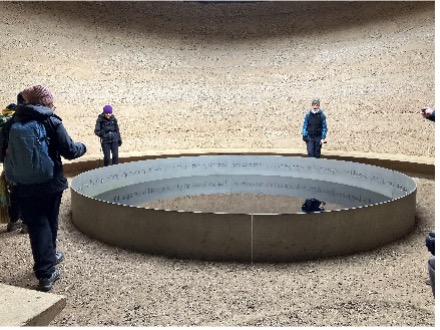 We proceeded on to the Magna Carta Memorial built by the American Bar Association and unveiled in 1957 and then spent some time at 'The Jurors', an artwork by Hew Locke commissioned to mark the 800th anniversary of the Magna Carta, consisting of 12 bronze chairs decorated with images "relating to past and ongoing struggles with freedom, the rule of law and equal rights" (National Trust leaflet). Here a National Trust volunteer was able to give us some information about them before continuing his cleaning of the chairs!
Finally, we paused for a comfort stop at the Lutyens designed lodges before crossing the A308 to continue our walk along the Thames towpath, past Old Windsor Lock and over Albert Bridge to arrive in Datchet for lunch – sandwichers on the green, three of us joining Peter who came for lunch in the Royal Stag and three who visited the neighbouring community café and spoke very highly of both the fare and the welcome.
In the afternoon we returned to the river for a short stretch where the opposite bank was lined with trees supporting a multitude of mistletoe clumps and there was a distant view of the castle, before crossing Victoria Bridge, walking across Home Park and further along the river into Windsor.
Report and photos by Linda