1 October. On a bright sunny morning five of us met at Loughton. Due to the rail strike, this walk replaced the originally scheduled ramble from Cowden to Hever in Kent but you can enjoy that walk a bit later this month. It was also good to welcome a new member to our group.
After some 10 minutes on pavements, we entered Epping Forest by the Nursery Road car park. Although it had rained the night before the ground had absorbed most of the water and we only had to dodge a couple of puddles. We made our way to Connaught Lake where we had a water stop to enjoy watching the wildlife, mainly sea gulls, some ducks and a heron was also spotted (Connaught Lake is named after the Duke of Connaught who was the third son of Queen Victoria and he was the first Ranger of Epping Forest). From there we made our way to join the Green Ride, a wide path at times winding right and left through quite dense woods but every now and then meadows opened up the view.
The path crosses a couple of quite busy roads running through the forest and at one point the sound of traffic emanating from the Epping New Road was audible for a while, but most of the routes are very peaceful.
After a good two hours' walking at a steady pace, we arrived at High Beach. Some of us ate in the King's Oak Pub which provided a quick service from very friendly staff. High Beach is a popular place for locals and visitors, affording a good view point towards the Lea Valley. On a clear day in winter, when tree branches are bare, looking north/west you might be able to spot Waltham Abbey. Besides the pub there are outdoor cafés, a seafood bar and a small Visitor Centre.
After lunch we briefly browsed around the centre before setting off towards our destination, Theydon Bois. The afternoon route is by far my favourite with the up and down paths surrounded by beaches, silver birches, oaks, ferns and many other species of foliage and flora and no shortage of fungus – magical.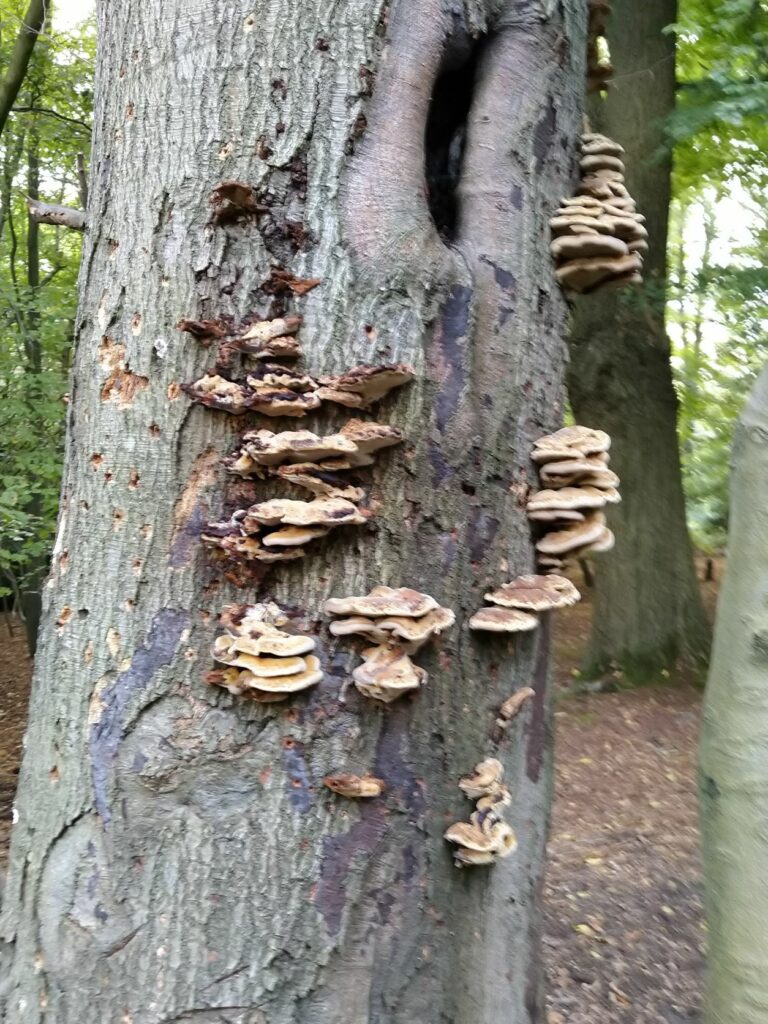 At one point we ventured away from the 'Ditches Ride' path to make our way through the woods down towards a narrow ditch and then uphill again to lead us to the deer sanctuary. The deer can be elusive but looking very hard through the wire fence we did spot some movement just beyond a cluster of trees – binoculars would have been handy. After a bit more weaving in and out of woods we joined Coppice Row leading us to the village of Theydon Bois. But before travelling home, four of us stopped for a cuppa, or rather pots of tea, at the Queen Victoria pub where a large selection of cakes was on offer in support of the Macmillan Cancer charity. A good ending to a good day out just on the outskirts of London.
Sigrid (Photos: Sigrid and, with my thanks, Christine M.)