16 July 2022. A select group of three walkers set off from Shiplake Station on what promised to become a rather hot walk, with temperatures of 27 degrees centigrade predicted by late afternoon. We headed down a lane, across fields and then along this peaceful section of the Thames from Shiplake lock. 
On reaching Shiplake College boatyard with it's new boat sheds, built since we last walked this way in 2019, we headed up to Shiplake Church which was open for the first time that we had passed it but, unfortunately, not visitable due to a wedding about to take place. We paused to admire the view of the Thames from the churchyard and were kindly offered water by the vicar.
The next section, zigzagging across fields in which the barley had been newly harvested, was under the blazing sun but the temperature wasn't too high as yet. On the recce we had been told by a local resident that two years ago these very fields had been set alight by a harvester hitting a flint, causing a spark and the resultant fire had come to the edge of her house.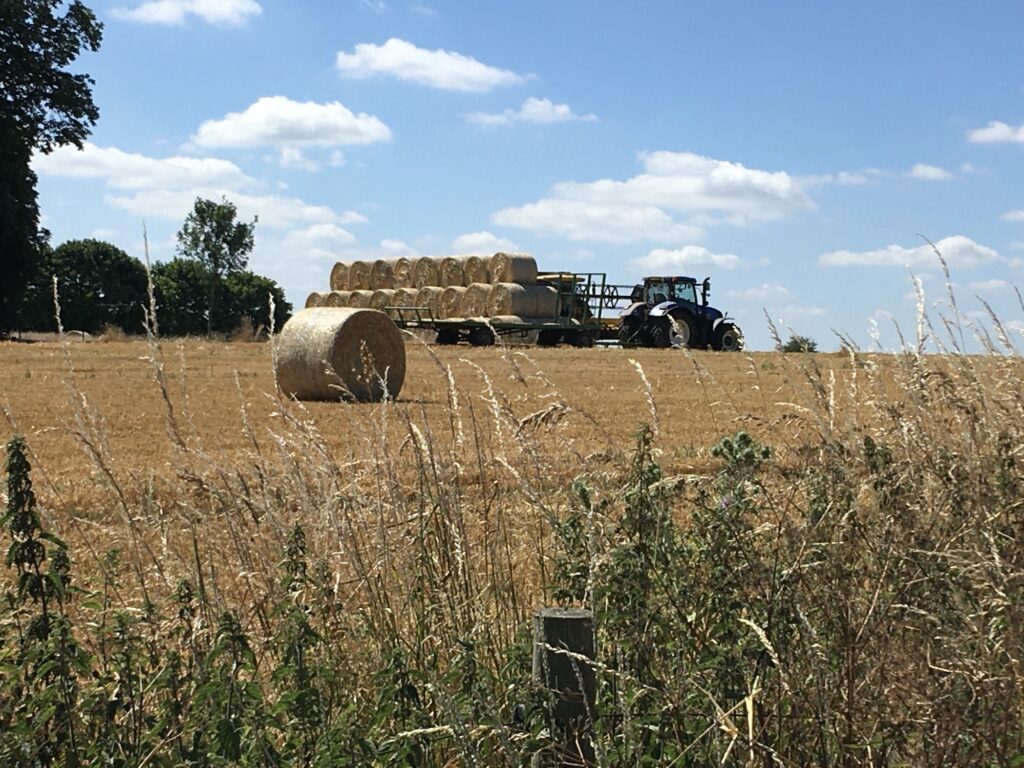 The next part of the walk was down a more shady track and lane before reaching a quiet road and a stop for drinks and toilets at the relatively new pizza/ burger barn, which doubles as a cake and coffee venue in the morning, at the back of the Bottle and Glass Inn
Onward then mostly through the welcome cool of woodland until we diverted from our usual path through open fields instead to follow a part of the Chiltern Way, previously suggested to us by Sigrid, which is much cooler and avoids a nasty length of road before the lunch stop in Rotherfield Greys.
The one and only pub being closed until the evening due to staffing problems, we sat in the churchyard of St Nicholas' Church to eat our sandwiches, together with Johanna who had just arrived there having brilliantly found her own way from Shiplake Station on an alternative slightly shorter route but with no map or directions! We commend her ingenuity! We had a brief look inside the church where there is the very ornate tomb of Francis Knollys with effigies of him and his wife Katherine, who was first cousin of Elizabeth the first, and surrounded by effigies of his 16 children.
We continued again mostly through woodland and skirting the edge of fields to pass the National Trust's Grey's Court before entering Lambridge Woods and for once we took exactly the right paths so didn't get lost. Next over Badgmore Park Golf Course to reach the suburbs of Henley.
Richard led us to the Grapes, a CAMRA recommended pub just out of the centre with a surprisingly nice garden where a drink was most welcome, though the high temperature really hadn't been too much of a problem, due to the walk being mostly in woodland, underlining just what a difference trees make.
Linda and Chris