Six of us met at Sevenoaks station expecting it to be another very hot and humid day but thankfully the heat had abated a little and with a bit of rain and some sunshine along the way nothing could dampen our spirits.  We started up along the narrow pavements through the town before turning off into Six Bells Lane, a cobbled stone alley way with some quaint cottages. Our route took us along narrow lanes and paths and in Hop Garden Lane we passed larger and quite stately looking houses with beautiful gardens. After crossing a road bridge over the busy A21 the scenery became more rural. Most of the walk so far was on a gradual incline. Eventually turning off into Brockhill Wood, but staying along the perimeter, we enjoyed views towards the Kent Weald.
Coming out of Brockhill Wood we crossed a small car park to enter Stubbs Wood and after a bit of an uphill the path gradually took us down towards the junction near our lunch stop in the village of Ide Hill where we were served hearty meals at The Cock Inn. The picture above says it all!
The afternoon started through open fields first downhill, then up again into Scords Wood where we picked up a steep rugged path uphill before turning off towards Toys Hill, a woodland of about 450 acres managed by the National Trust. Crossing the car park, we followed the 'red arrow' path until we came to a large clearing affording a good view across the Weald. It is also the site where Weardale Manor(*) once stood.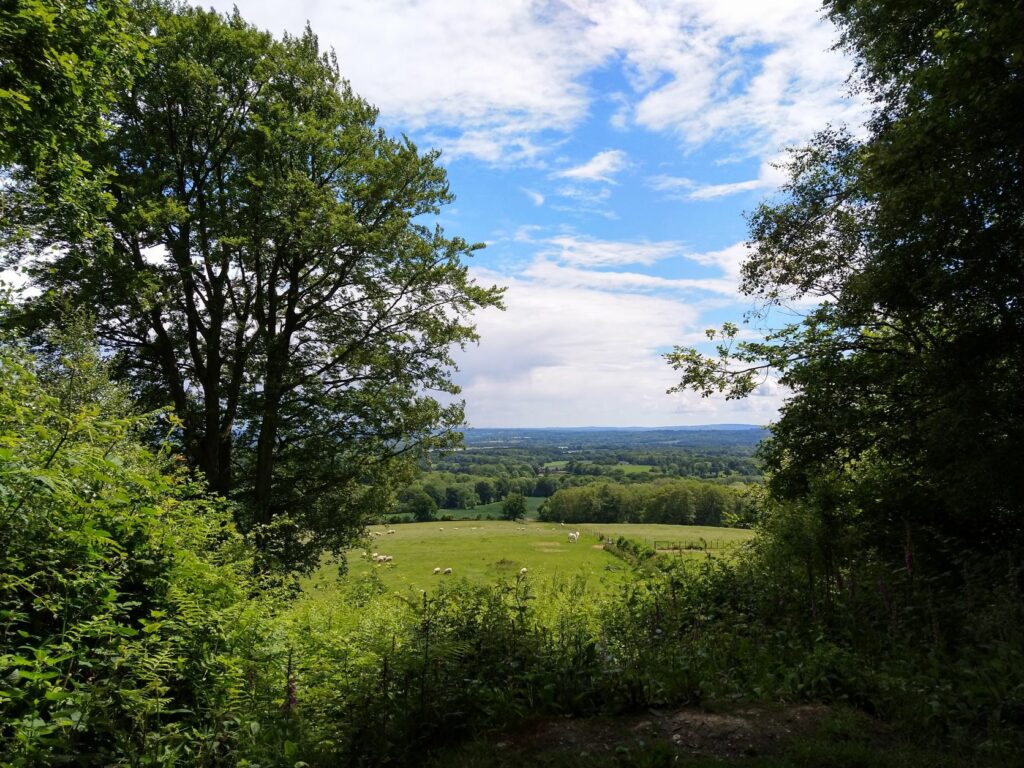 Continuing on the 'red arrow' path through the ancient woods we exited by a gate opening up a view to our left towards the hamlet of French Street on top of a hill, and sheep grazing in the field below. Our route took us passed the 'Outridge Oasts' buildings before turning left to cross a field leading us to the 70plus steps up to French Street (the jury is still out on the exact number of steps we climbed).
A brief stop for water and a chance to catch our breath was welcomed before taking the lane to the main road from where we joined a foot path leading us to open grassland with the roof tops and church spire of Westerham(**) in view. With a small herd of cattle watching us curiously while we made our way down the hill, we arrived at Westerham Green by 3.30pm, too late to get the last bus back to Sevenoaks but early enough for refreshments.
One of our members very generously invited us all to cakes in the Rose Tea Room to mark an upcoming special day – thank you very much for rounding off our ramble so perfectly over cups of tea and delicious selection of cakes before we boarded the bus 246 to Hayes and Bromley South railway stations.
Thanks to everyone who came out and contributed towards a pleasant, harmonious day.
(* Weardale Manor: https://www.geograph.org.uk/photo/4462438).
(** Westerham Market town: https://www.westerhamheritage.org.uk/)
Sigrid (photos: Sigrid and with thanks to Mary-Jane )