February 5th 2022
Seventeen Morley Ramblers turned up for this walk which, despite meandering its way through the suburbs of south west London, is ecologically rewarding as well as geographically and historically interesting.
The Wandle is one of only 200 chalk streams in the UK rising in the North Downs and flowing underground to emerge in dual sources at Waddon and Carshalton ponds. Our walk took in both sources and followed the well signed Wandle Trail to Merton Abbey Mills.
The paths were dry, the day bright and the river sparkling. In Victorian times it was crystal clear but became so industrialised in the twentieth century that in the sixties it was officially designated a sewer!
We stopped for coffee in Beddington Park. Unfortunately the church of St Mary's was closed but a guided tour of this jewel on a previous walk revealed monuments from every era, including a Roman sarcophagus and the organ screen and choir decorated by William Morris.
The walk was most notable for an intriguing insight into fox behaviour in Carshalton where we stopped for lunch. Christine opted to eat sandwiches in the tranquil surroundings of the Sutton Ecology Centre and sent this account of "foxy shopping"
The fox we all saw in the ecology centre; it did have something in its mouth – but it was not a ball as we had thought.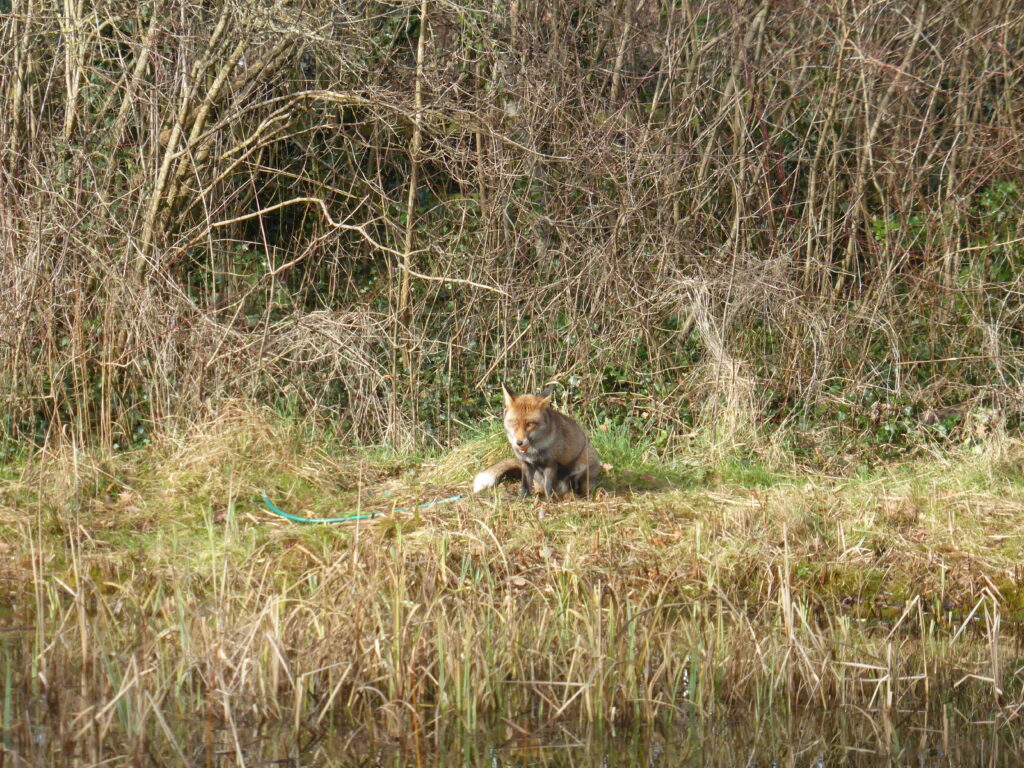 Below only seen by me…Later, I was having my sandwich on my own. S/he definitely has an extra large hen egg:
It passed again a few times with nothing in its mouth.
Then it appeared again with (another?) egg and proceeded to bury it, with its nose, in the grass, a meter in front of me (you can see my shadow). It did not break it!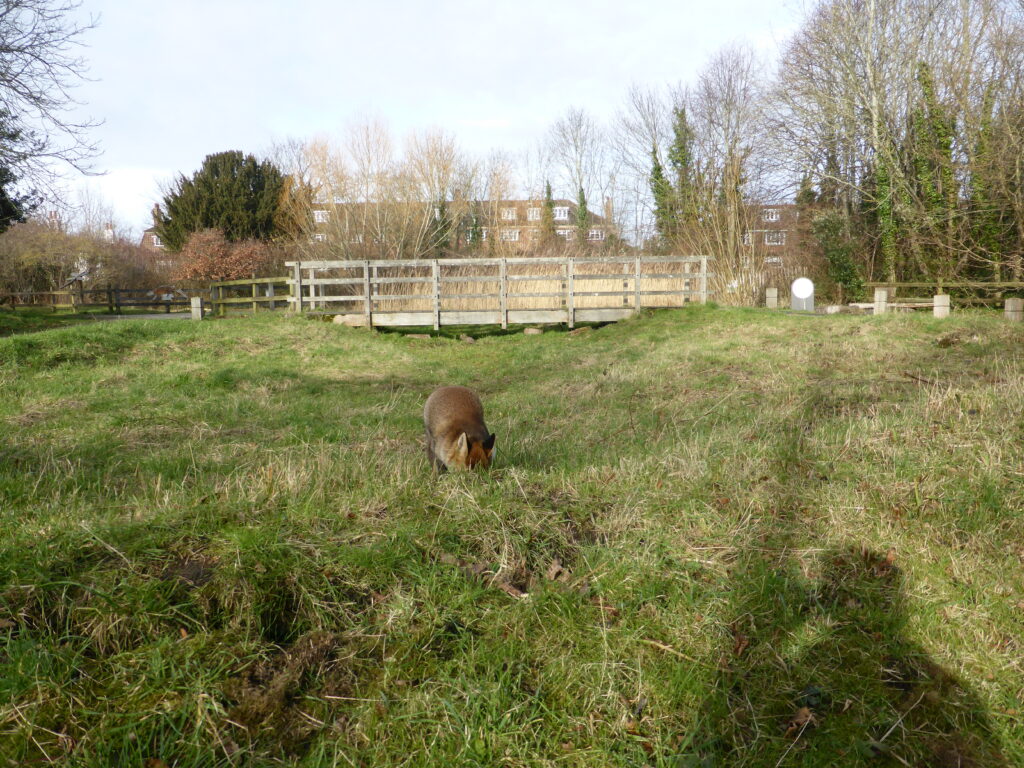 Did it want me to cook it?
Where on earth did it go shopping??? No farms, no supermarket nearby? Maybe the little cafe near the pond was missing provisions?
Other notable sightings included a white egret, a blue heron and the positive effects of water weed clearance in the Watermeads National Trust Nature reserve.
We were just in time to see the water wheel at work at the Merton Abbey Mill pottery – the building was used by Arthur Liberty to print its Morris fabrics.
I can't sign off without mentioning Sandra who completed the full eight miles; a personal best since her operation. Good to see her back on form!
Sue H
Thanks to Daphne and Christine for photos