28 August. After early morning travel chaos, Peter G led a group of eight on the short walk from Benfleet station into Hadleigh Country Park. The upper path provides views over the Thames estuary to the Kent coast and the North Downs on the horizon. Tilbury to our west and Canvey Island provide industrial interest to the view, and in our easterly direction Hadleigh Castle frames the mile long pier jutting out from Southend.
The park was used for cycling events during the 2012 Olympics. Cyclists now prefer other paths, but the Visitor Centre with its welcoming cafe makes an excellent stop after about 2 miles. The walk continues past the Salvation Army site at Hadleigh Farm. From 1891, Homes for Men were established to "raise the submerged tenth of society" and to move the city's destitute from the slums back to the land. The Hadleigh Farm Colony and Rare Breeds Centre continues as an Employment Training Centre, also an alternative cafe stop. Just down the hill is Hadleigh Castle.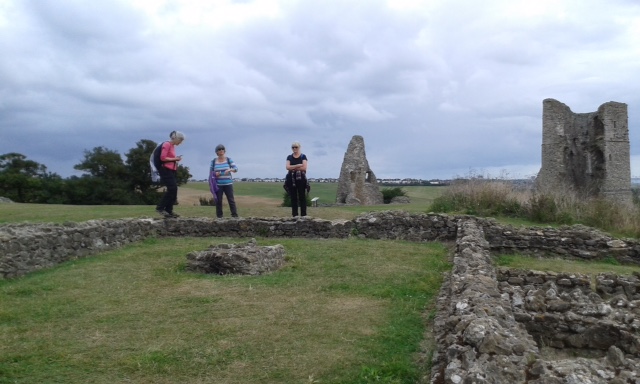 This is what remains of a once Royal Castle, begun around 1215, but fortified by Edward III during the Hundred Years War, mid-1300s. And there we met two more of our party who had travelled on a later train to Leigh-on-Sea and walked back up to the Castle. Peter marched us back down the hill for a well deserved lunch break by the seaside.
Leigh-on-Sea has not lost its olde worlde charm or its many outlets for seafood and especially fish and chips enjoyed by a number of the group. Bank Holiday had also brought in a sea shanty festival, and there was entertainment throughout the lunch break from the group of singers. Two of our group made their way towards Southend, so our number returned to eight.
The afternoon return walk is back across the Essex marshes bordering the estuary. The overcast skies added to the atmospheric scenery with its special fauna and flora. We did not cross to One Tree Island Nature Reserve, but did choose to make use of another cafe at the Golf Range. An occasional boat and paddle-boarder passed us on our walk back along the estuary to the station. Whatever the train issues were in the morning, there were now plenty of trains home. Tony (Thanks to Carole and Christine M for photos)