13 June 2020. Chris and I have done this walk about 5 times but the last time was two years ago and we can't find any photographs taken so those included are taken from the internet (all public domain so far as we can ascertain), but they are, sadly, rather thin on the ground.
Rowlands Castle is named after a motte and bailey castle, the remains of which exist but we do not pass them.
Most of you take the train to Rowlands Castle from Waterloo but we meet you at Woking. Once there we head left out of the station down to the main road through RC. There is a nice coffee shop with good cakes on the corner but, unfortunately – or maybe fortunately, it doesn't stay open late enough for us to try it on our return.
We turn left under the railway bridge, cross the road and shortly turn into a wooded area, popular with dog walkers it seems, so watch where you put your virtual feet! We head slightly uphill and emerge onto a wide and long grassed area with Stansted House in the distance. The Stansted Park Estate began as hunting grounds in medieval times and the first house was built in 1688. It was rebuilt as an Edwardian Mansion after a fire devastated it in 1900 and was given to the public in 1983 by the 10th Earl of Bessborough.
We continue towards the house, passing a lodge after about 20 minutes, walking along a tree lined path and bearing left at the bend, then right where we continue to follow Monarch's Way for about 2.5 miles. The path passes between fields and through woods, finally passing some cottages and emerging at a B road. We head right then left into Walderton, a rather pretty village, where there is a green for those of you who want to imagine eating your picnic lunch or The Barley Mow pub where we can buy lunch.
The morning's walk being mostly flat and only taking under two hours, the afternoon begins with a bit of a shock to the system as we head uphill around the back of the pub, turning right along a pathway that takes us into a field where we turn heading east. After a minor road we continue uphill again until we reach a bridle way in a wood. A bit of relief as we head downhill, heads down to avoid tripping on the numerous tree roots, then after a road uphill again through more woodland before turning left and climbing up to a path along the top of the hill with a field on the right and marvellous views towards the Solent on the left. Some thoughtful soul has provided wooden benches along here but not too many, so you can argue or, preferably, be super courteous.
After a break we soldier on gradually heading down again past a rather large relatively new house and paddocks to a B road where we cross and yes, head again uphill through the woods. This is a bit of a steep climb and could be slippery if wet so we hope for good weather. We also hope to see deer but we haven't ever yet.
We make a couple of turns and continue heading back eastwards through agricultural fields and a few houses before turning through a farmyard, round two sides of another field and then onwards with woods to the left and a field on the right. Through woods again, a couple of turns and we emerge onto a road where we pass the Victorian Christ Church in the hamlet of Forestside.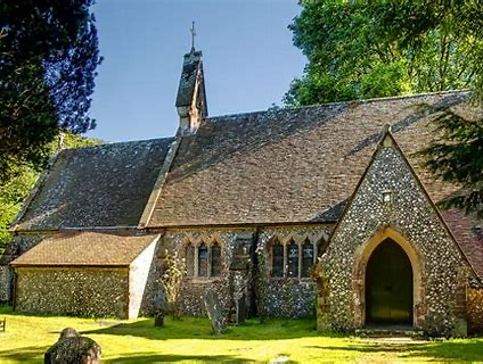 We soon turn right past stables and on reaching a gate ahead we keep to the left. At this point on our first recce we headed through the gate into the garden of the house just beyond before realising we were trespassing!
We now head downhill again through some rather lovely woods, where we have seen deer, and past fields where there are frequently sheep. We go through several kissing gates and fields along the Staunton Way before reaching the final two long fields from where the railway and houses of Rowlands Castle are visible slightly below. This is where there may be cattle and if there is you'll notice the pace quicken! I am not brave – Chris thinks he is – on our last recce the first field was empty but we could hear some very loud mooing in the second coming from a young steer right by the gate. I considered retreating, Chris didn't, a ….discussion …Chris won, and I admit he was right! The creature was actually behind a bit of a fence, seemed to have been left alone and clearly wasn't happy about it.
Through the gate and we are back in the woods in which we started and shortly passing the Castle Inn where you can refresh yourselves with a virtual tea/ coffee/ beer before the last push (uphill) to the station.
Linda and Chris