Saturday 30 May. On this gloriously sunny day, with the promise of a gentle breeze, welcome to the last leg of the Essex Way – or first leg, if you are doing the route from east to west.
I haven't had the opportunity to do this walk yet so the description is drawn from Walking in Essex and internet sources.
We start at Wrabness – familiar to those who have joined Rosemarie on her walk to Manningtree – and the memorable Grayson Perry house.
Initially, we turn east for the path along the shore of the Stour estuary. On this beautiful sunny morning we have lovely views across Copperas Bay. We then turn inland through a short stretch of the Stour Estuary Nature Reserve woodland before crossing fields.
The Castle Inn, our lunchtime stop, is a 17th century coaching house that turned into an ale house in 1769.
With so many centuries in its history, it is bound to have witnessed a great many dramas, but perhaps none so remarkable as occurred on 22nd March 1979. In what more recently is termed 'suicide by police', teenage gunman Paul Howe took a hostage and led the police in a high-speed chase through Essex, before taking over the pub. After his hostage escaped, Howe set fire to the pub and ran out shooting at the police. He was killed by a police marksman. His hostage claimed that Howe had been determined to force the police to shoot him.
Leaving such drama behind us, the walk continues towards the sea – the Naze Tower can be seen in the distance. Reaching the sea wall, we turn towards Dovercourt Bay and Harwich.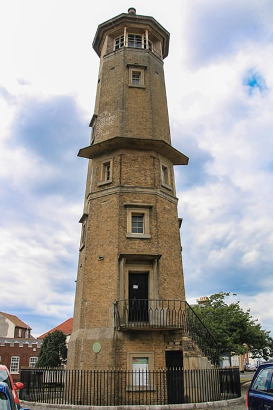 The end of the Essex Way is marked by a plaque on the High Lighthouse (built 1818). Paired with the Low Lighthouse, these structures marked the direction mariners needed to take for a safe approach to the harbour. Changes to the channel meant the lighthouses became redundant. Cast iron structures were built in 1863 to mark the new route. I hope you can join me on this walk at some future date.
Kathleen