This is a truly virtual walk, as I have never done it. It is a wealden walk on the Sussex-Kent border, with views across the Rother valley and lunch beside Bodiam Castle. The walk is based on a Saturday Walkers Club ramble, which you can see here: https://www.walkingclub.org.uk/walk/robertsbridge-circular/ My version is based on the shorter of the two walks, but I plan to add a couple of uphill loops on the outward route to add some more views in the morning. (However I haven't done a recce, so I don't know how that will work.)
The walk begins and ends in Robertsbridge. (If you have done/remember my Stonegate to Robertsbridge walk, this one begins where that one ends.) We walk through Robertsbridge and on to a morning of undulating paths going through fields and woods before dipping back down to the river, and then making our way to the village of Bodiam. Bodiam Castle is the very image of a proper castle, surrounded by a moat. It was originally built in 1385, allegedly to guard against expected French invasions, and finally saw real action in the seventeenth century during the Civil War, when the interior was gutted. It was restored in the 19th Century by a character called 'Mad Jack' Fuller and is now owned by the National Trust. See https://www.nationaltrust.org.uk/bodiam-castle
Lunch, if you haven't brought a picnic, is at the Castle Inn or in the tearooms in the castle itself.
After lunch we head up into the hills, with views across the valley, perhaps visiting the 13th century church at Salehurst. Look out for two windows by pre- raphaelite artist Charles Eamer Kempe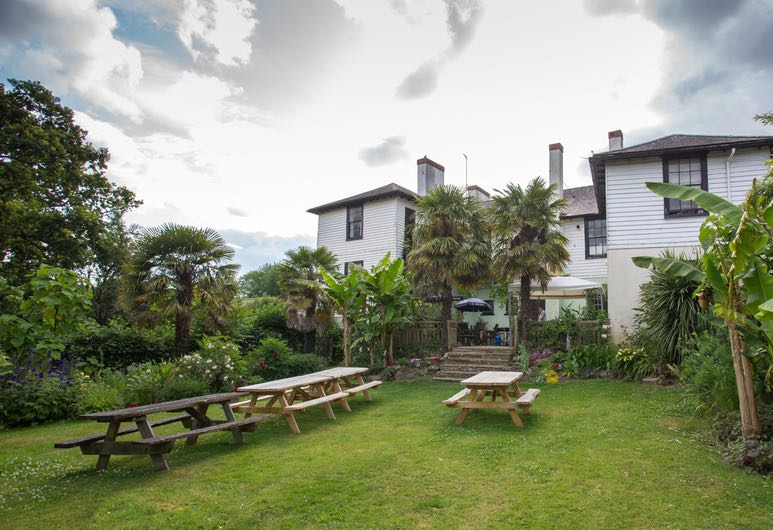 Then back to Robertsbridge where trains go to London once an hour. But if you just miss one, you get the chance to visit the Ostrich pub, with its luscious sub-tropical garden.
Hope one day to do this walk!
Janet