Apsley to Hemel Hempstead
Before we start this virtual walk I'd like to tell you about the first time I led this ramble in 2008.  Andrea had brought her granddaughter who was not used what she thought were 'wild' animals – cows, sheep, horses. Until she met this small but sturdy spotted horse.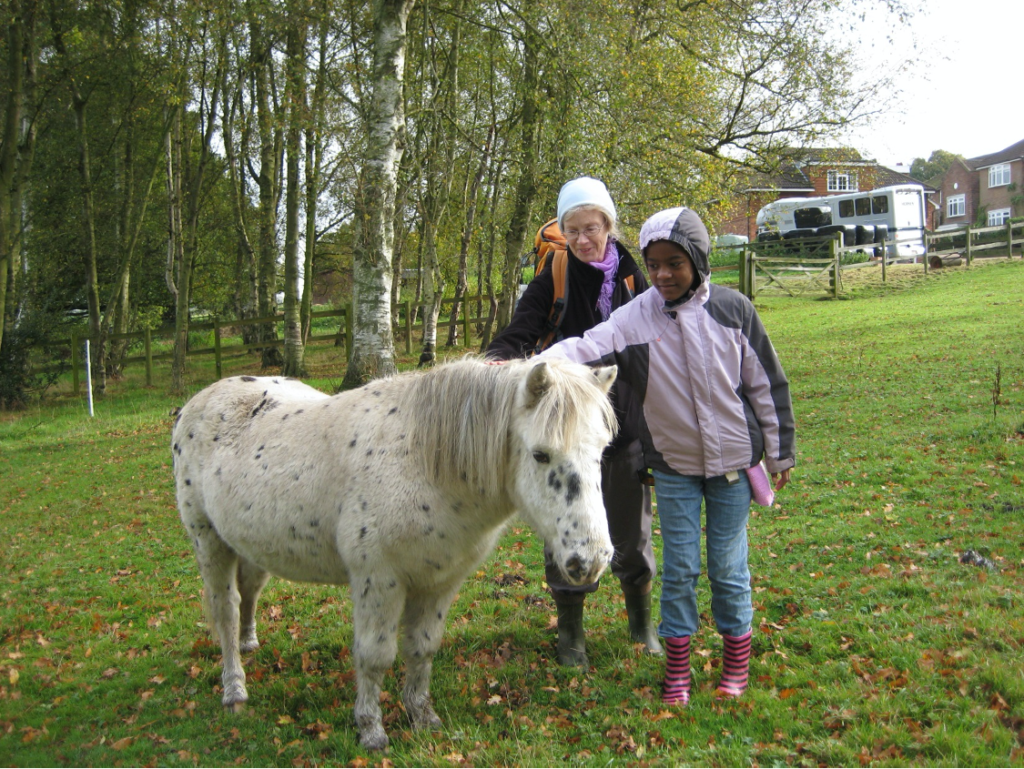 Now, our virtual walk from Apsley station takes us soon into the church yard of St. Mary's Church where the path leads us through to a railway bridge. After crossing it we negotiate a golf course, trying not to get hit by a golf ball, then entering a wood where we turn left. We follow the wood around before reaching open ground. Soon we enter the small field where we saw the horse so many years ago. Let us imagine that the same horse, I'll call it 'Spotty', is greeting us again today. — Oh! Look who's here?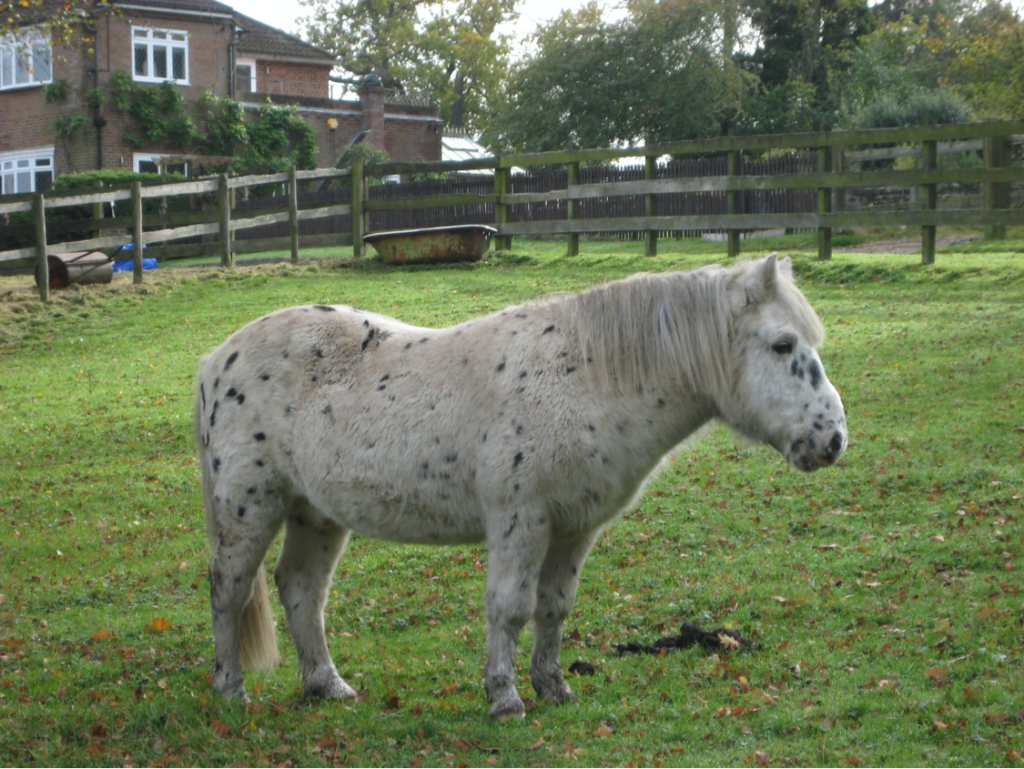 On we go until we turn right at a sign post to 'Chipperfield Common and Grand Union Canal' and after a good hour's walking we cross over a country road into woods from where we reach a small pond – it could be the Apostle Pond, Chipperfield Common.
From there we follow a wide track to a finger post sign 'Eazy (sic) Access Route' – turning right with woods to our right, we eventually reach a sign 'Serratt Parish Path' which leads us to a country lane and after a lengthy stretch along a bridle path we arrive in the village of Belsize where we stop for lunch at 'The Plough', a cosy, friendly country pub.
There is a little anecdote why our lunch stop is in the village of Belsize. When Peter and I first recced this ramble we stopped in a pub in another village (I cannot recall the name of the village nor the pub). When I paid for my drink with a £20 note, the 'landlord' behind the bar short changed me by £10. There was a bit of a to-do between him and me, but he insisted that the change was correct. He displayed quite a patronising attitude towards me. To add further insult he then told new people arriving that we would be leaving shortly so that our table could be given to them when in fact Peter and I were still drinking our drinks. Needless to say, I wasn't keen to return to that pub when leading the walk.
Now refreshed with drinks and fortified with food, we continue the afternoon section to a footpath marked 'Holly Hedges Lane', following along a path with fields to our left and hedges to our right we enter a wood. We stay on the Chiltern Way which takes us through Bovington Green. Reaching the small town of Bovington, we negotiate our way through a small housing estate before entering an enclosed path. At the end of that path we walk through fields before we come to a wood. After walking through a few gates along the way we reach a country road. A short walk along the road we branch off slightly uphill into a wooded area. From here we wriggle our way through a narrow, windy, path towards a foot bridge crossing a dual carriage way. This brings us to a wider path which leads us across the railway bridge. Soon after we turn left and walk on a lengthy stretch of pavement to our destination – Hemel Hempstead. Alas, no café for a tea stop before returning home.
Sigrid