18 April 2020. The Box Hill to Holmwood walk was inspired by a legendary walk of 32 miles from Epsom to Leatherhead, undertaken in 1925 by a group of the Morley Ramblers who called themselves the 'strens' (short for strenuous). Don't worry – this is a shorter version of the walk, devised by Frank Dring in 2012 as part of the Club's centenary celebrations. Sally now leads this walk. It was originally scheduled for 14 March, but Sally had just returned from Italy and was self-isolating, so she swapped with Peter to do it on 11April. But then …  However, Sally and Janet did the recce in February, so we have pictures to show you and stories to tell.
The walk is still a bit strenuous and probably not as short as Frank says (he says 10 miles, we say 11-12) but it has some stunning views, and some beautiful woodland paths. We start at Box Hill, and from there we go upwards. It was on this walk, a year and a half ago, that Tony rescued a sheep that had got its head stuck in a bucket. After passing the field where that happened, we go up and on to Ranmore Common and join the North Downs Way as it goes past Ranmore church. The crocuses and snowdrops were out in abundance (today there will be bluebells).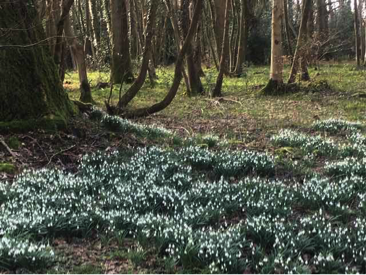 And soon after that, we get to a viewpoint where you can see across to the Surrey Hills. We then drop down through some woods leading to the valley bottom – which in February was almost impassable in some places for mud and water.
Lunch is at the Stephen Langton at Friday Street, a pub in the woods on Abinger Common. When the Strens visited it in 1925 it was famous for its cider, which they enjoyed. Since this is a walk devised by Frank, it is nowadays well stocked with real ales. It is popular with dogs and dog walkers – some of the regulars:
After lunch we set off uphill, downhill, and up again through woods and out on to Coldharbour Common with yet more views. Then the final leg of our walk is mostly across farmland. The good news is that there are only three or four stiles on this walk; the bad news is that they are all in the final half hour. In February, these stiles were followed by the further obstacle of a fallen tree, with no detour around it (a fence on one side and steep bank topped by an impassable thicket on the other). So we did what others had apparently done before us and climbed through the middle of the tree-top branches which were laid across the path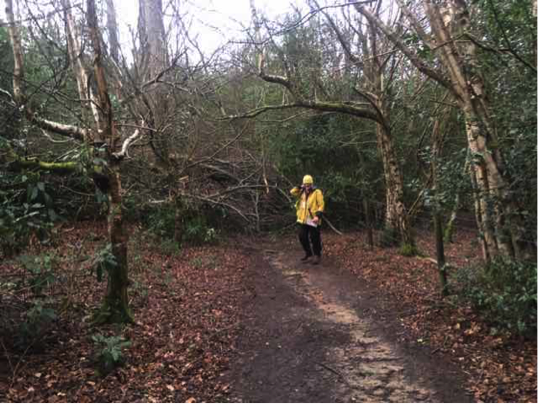 Then to Holmwood Station and home.
Sally and Janet