Henley on Thames Circular
16 September. Eighteen Morley ramblers met at Henley on Thames station at 10am for a walk that was originally led on numerous occasions by Peter H, and he was happy for me to take over, at least for now. We could already sense early in the morning that this was going to be a hot day and so it proved to be.
Once we had crossed the river Thames by the road bridge, we made our way to Ramenham Wood, then out into open fields until we reached the village of Aston. From there a track led us back to the Thames and to Hambleden Lock and the Weir at Mill End.
Hambledon Lock
The bridge across the lock was open to let small boats through, so we had to wait before we could cross over. This could have delayed us for some time, but the lock keeper realised that a crowd of people, also cyclists, were keen to get across the other side so he did his best to close the bridge before another boat came in. Until then we watched the boats being manoeuvred through the lock.
Thereafter, a long, narrow bridge took us across the actual Mill End Weir, accompanied by the sound of gushing water and some residents of the feathered kind watching us from below, perhaps a little bemused. Safely across we continued the final leg of the morning section of the walk.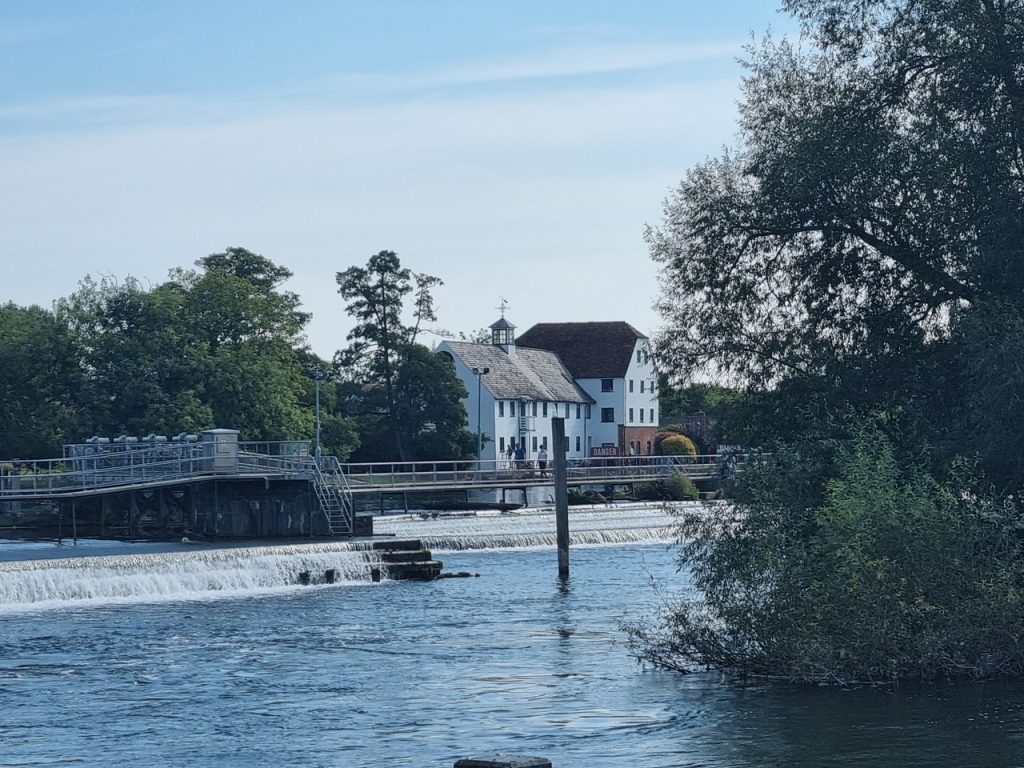 Mill End Weir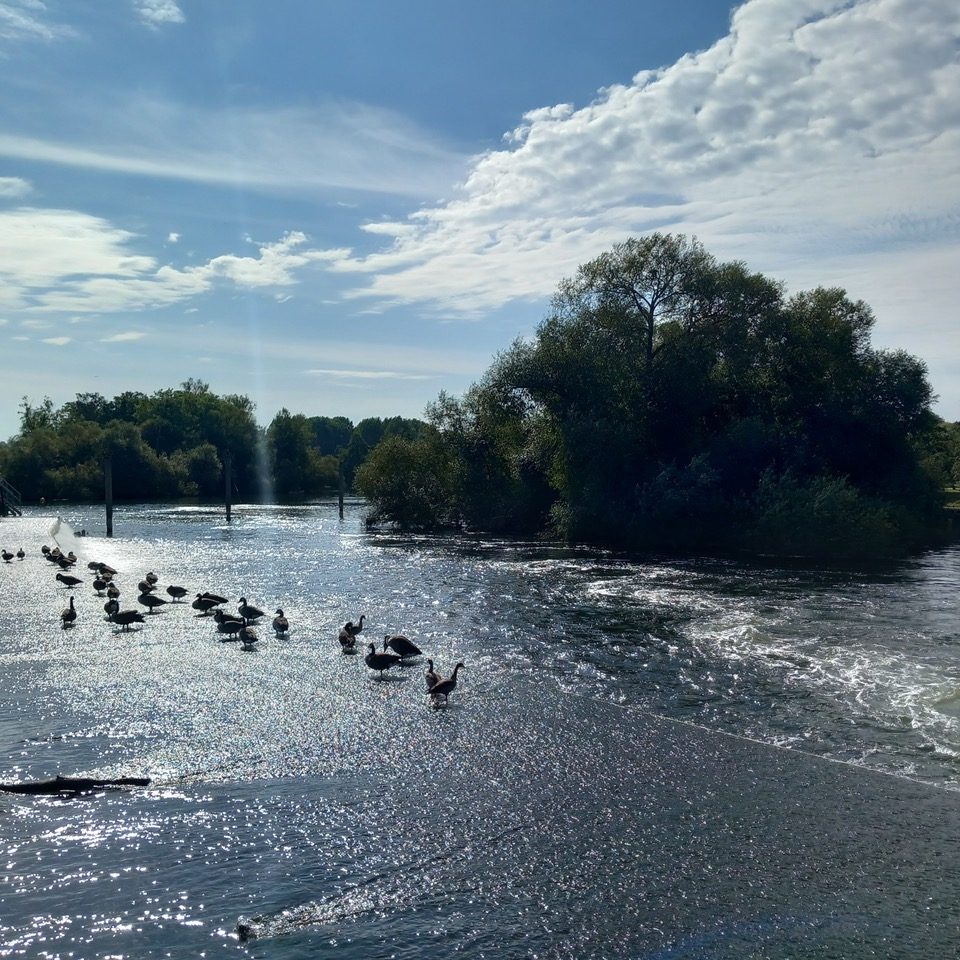 Soon turning off uphill on a lane we eventually joined a foot path taking us along the ridge above fields and a sport ground leading us towards Hambleden Village for our much-needed lunch break. Coming down by the village cricket ground, there were several convenient benches for picnic eaters. The others went straight to the Stag & Huntsman hotel pub.
Hats are hot!
Spot the picnic eaters
Two more members joined our group at lunch time, so twenty of us continued in the afternoon. First, we looked at the 12th century St. Mary the Virgin Parish Church in Hambleden before making our way up to Ridge Wood. Walking through the woods was pleasant as we were sheltered from the sun and every so often, we could glimpse village roof tops, fields and hills across the other side through the trees.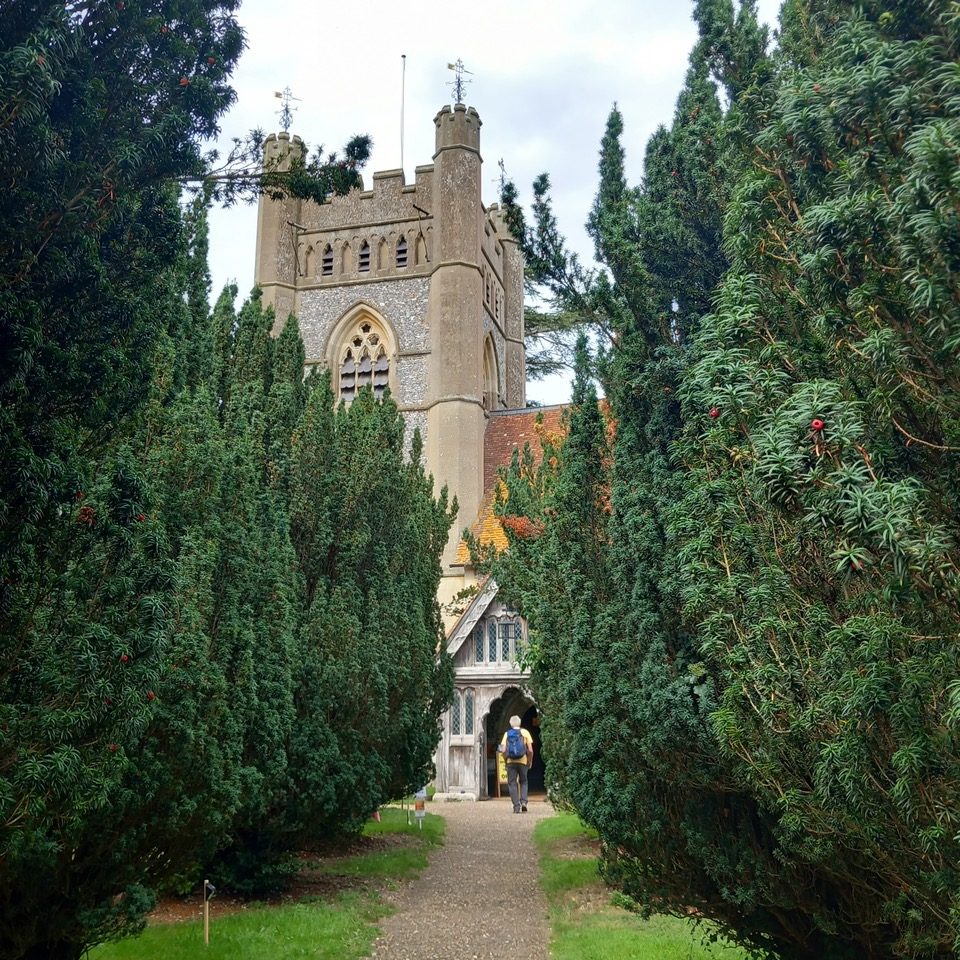 Hambleden Parish Church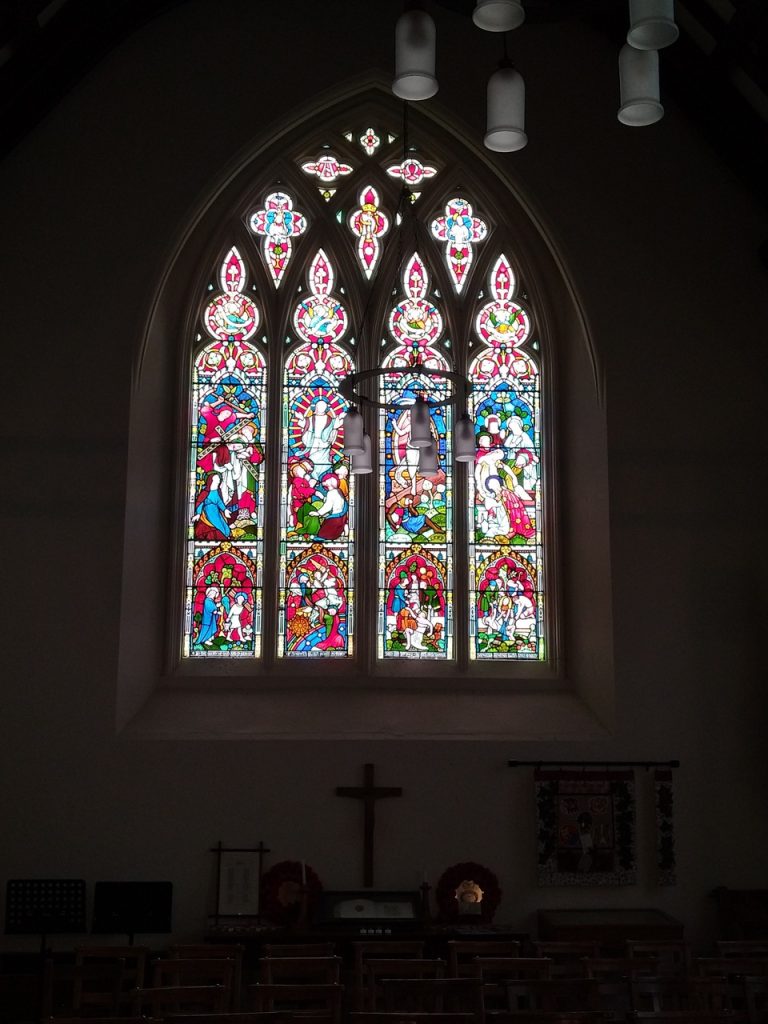 Through Ridge Wood
Exiting the woods by the Greenlands Dairy Farm and after a short stretch along a very busy A-road we entered a large meadow that led us towards the Thames and a parallel path along the river. This involved crossing over several water inlets and ditches via very narrow bridges, the width of a wooden plank, but luckily with hand railings on either side to hold on to – phew!
Most of this stretch was rather exposed and I think I am right in saying that we all felt quite over-heated, so regular water and catching up stops were needed. Alas, this foot path did not take us all the way into Henley, so we had to divert back to the same very busy A-road and follow it round before turning into Bell Road to head back towards the river.
Once on more familiar ground, some of us stayed behind to enjoy refreshments in a Café and the rest made their way quickly to the station to catch their trains homeward bound.
Thanks to all of you for supporting me on this ramble and to Mary-Jane and Christine R for additional photos.
Sigrid