The weather forecast for July 8th promised thundery showers in the morning, and unfortunately for our group of nine it proved to be correct. We crossed the busy road north of Aldermaston station and reached the fairly gentle climb to the church at Beenham with the path providing a fair amount of cover from the rain. A wooded area and a further uphill path with tree cover then opened out at the hamlet of Beenham, so it was a rather damp group finding their way through further woods and fields to reach Chapel Row.
The early lunch stop after less than 4 miles was therefore welcome. The pleasant cafe was hosting a chuldren's party, but the pub was able to offer hospitality inside. After an hour's break, the forecast was again correct as our raincoats were not necessary after lunch.
Part of Bucklebury Common would normally be walked before lunch at Upper Bucklebury, but this gentle stroll of a mile or so reached the chapel and the Cottage Inn where we chose not to call in on this outing. The walk continued back Southeasterly across the common towards Wootten. The best views of the day preceded a mostly downhill path towards Midgham Church.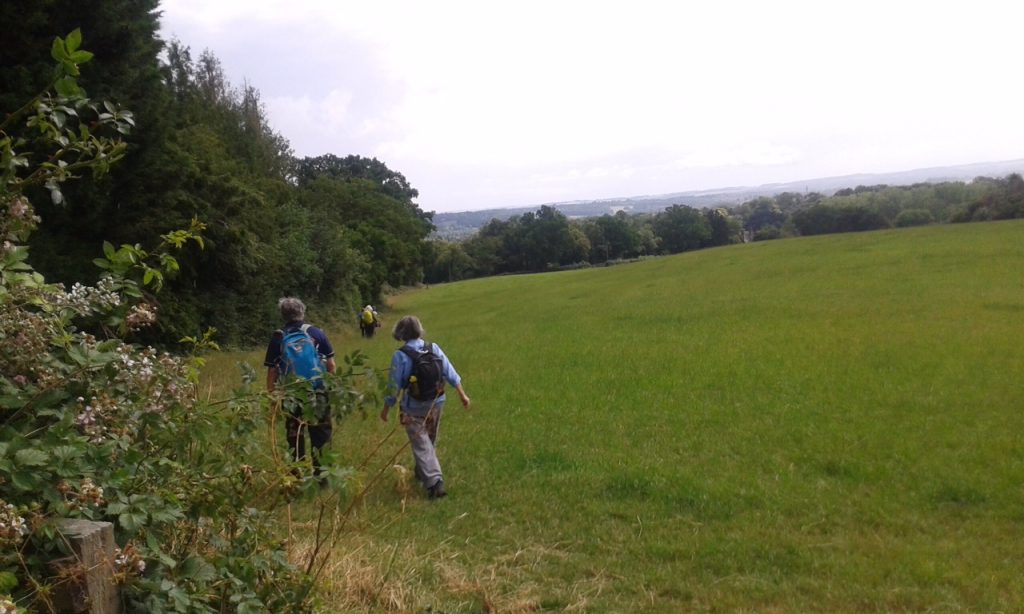 There is a choice of routes from the Church, one of which reaches the Kennet and Avon Canal. But on this occasion the alternative path crossed fields above Midgham Park to take a not too busy road down to Woolhampton. There was only one stile on our walk. Or maybe two !
For reasons unknown, the station called Midgham is just down the lane from our pub stop in Woolhampton where all confirmed that we had a very enjoyable day out.
Tony (thanks to Christine M, Sigrid and Mary-Jane for photos)