24 June. How blessed were the 12 of us who undertook our club's first attempt at the Cuckmere Pilgrim Path. This is a circular walk around seven ancient churches passing through the beautiful landscape of the South Downs and Low Weald. The sun was shining, the sky was blue, the air was filled with the sound of larks ascending.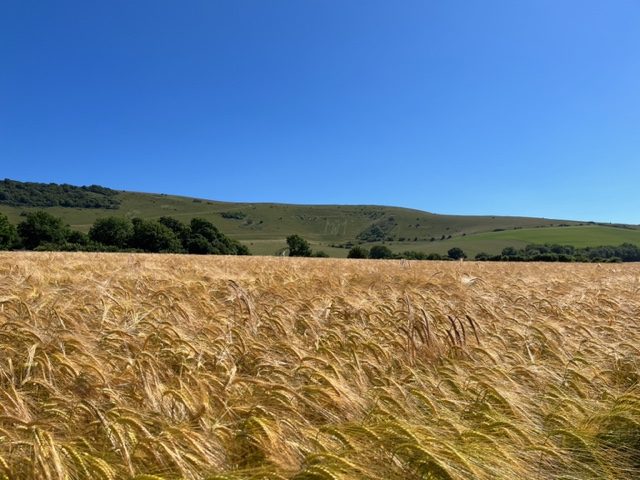 During all of our many years walking in East Sussex, none of us had ever before visited the lovely and contrasting churches of Selmeston and Alciston: Selmeston, which its varied collection of stained glass, and deeply moving memorial window installed in July 2022; and Alciston with its simplicity and light, and contemplative Pilgrim Bell donated in 2021.
Howard rings the Pilgrim Bell at Alciston
Stained glass window at Wilmington
By the old yew at Wilmington
And on we went to Berwick and Alfriston Churches. From there four members remained behind, with two making the pilgrimage to Lullington Church.
Eight of us continue on way and reached the Sussex Ox at Milton – a treasure of a pub – for some much need refreshments. And then on to Wilmington Church for more stained glass and to pay our respects to the 1,600 yew tree.
The Long Man
It was a very warm day and none of us wanted to rush our visits to the Cuckmere Churches. We waved good-by to the Long Man, and boarded the charming Cuckmere Ramblers Bus.
Thank you to my walking companions with each contributing in their own way to the success of the walk.
I am now planning another ramble to take in Arlington Church and others. I hope you will join me. Patricia, with thanks to Mary-Jane, Sue C and Virginia for photos.