Saturday, 20 May. Most of us probably remember Spring 2023 more for its relentless wet weather and stomping about in deep mud on our weekly rambles, but eleven of us met up at Manningtree station to start our walk into the Dedham Vale countryside on this gloriously sunny May morning. Up a narrow, somewhat overgrown path to the Church of St Mary the Virgin in Lawford, which was built during the 14th Century and, quote: 'its Chancel being one of the best examples of Gothic architecture in Essex'. The churchyard contains some war graves, notably of the poets Robert Nichols, his father John Bowyer Nichols and the Canadian politician John Robertson. Before leaving the church eleven walkers became thirteen when we were joined by two more walking friends.
After circumnavigating a section of a large field, we made our way to some paddocks, but not before crossing the busy railway line first. One of the paddocks had a team of white horses, possibly ponies, with one brown foal. Next, we entered a meadow displaying a carpet of buttercups – a joyful sight when leading this walk during the month of May.
New residents in the paddock
Buttercups meet chestnut trees
Glorious yellow
Across more fields and through a small, but pretty Hamlet we arrived at the playing fields just behind the Church of St Mary in Dedham. The name Dedham derives from the Saxon 'Dydda's Ham' – the hamlet of the family named Dydda. Dedham is now more than just a hamlet, an attractive small town, where the painter John Constable went to school. At this point our group dispersed to either enjoy a meal in one of the pubs or tea rooms and/or mooch around to explore the place. Besides other sites of interest, the church is worth a visit. Peter had made his way to Dedham by bus from Colchester station to meet up for a pub lunch.
Alongside the Hawthorn bushes
Lunch within reach
After lunch we walked across the meadows to the meandering River Stour where, at a convenient point, two of our walkers took a more direct route to Flatford Mill. The rest of us crossed over the Fen bridge to pick up a path to East Bergholt, where John Constable was born in 1776. Alas, the house he lived and grew up in no longer stands, only a plaque on a garden fence indicates its location.
The parish church of St Mary's (Suffolk) does not have a Bell tower but instead it has a large Bell Cage, which was erected in 1531 as a temporary measure but it is still there and used on special occasions. It is located in the churchyard behind the church and holds five bells which are currently the heaviest bells still rung by hands in England.
Fenbridge – River Stour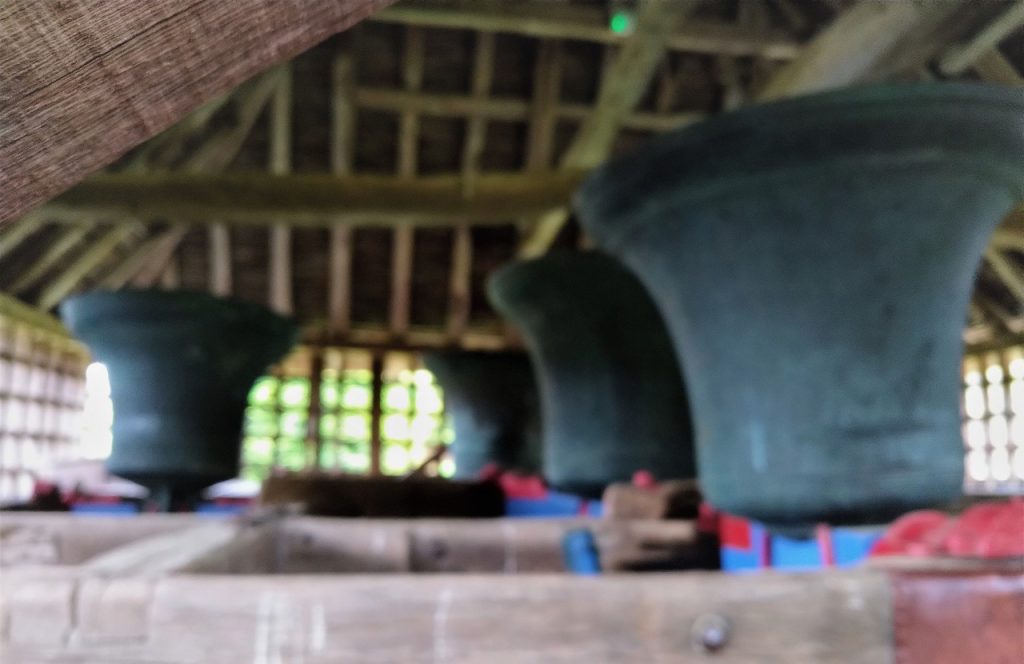 Bell cage – East Bergholt
We stopped to look at the church and bell cage before making our way to Flatford Mill. The route goes past Willy Lott's cottage by the pond, famously captured in John Constable's painting 'The Haywain'. Flatford Mill belonged to John Constable's father, Golding Constable, and Willy Lott was one of his Foremen but also a good friend of his son, John. The Mill stopped in 1901 and is now a Field Study Centre with a museum, a tea room and a shop. This, together with a considerable area of natural beauty, is now maintained by the National Trust.
Willy Lott's cottage
Flatford farmhouse
Needless to say, we stopped at the tea room for refreshments before venturing back to Manningtree station. Having just missed the earlier train by a hair some of us enjoyed a beer or other refreshments served at the station bar/café while waiting for the next connection back to London. All in all a pleasant day with the sunshine helping us along the way.
Sigrid, with thanks to Christine R for additional photos