29 April. I am not superstitious, but there were 13 on the walk …. However, one Sue left at Ardingly, so there were only 12 for the major incident.
By Ardingly Reservoir …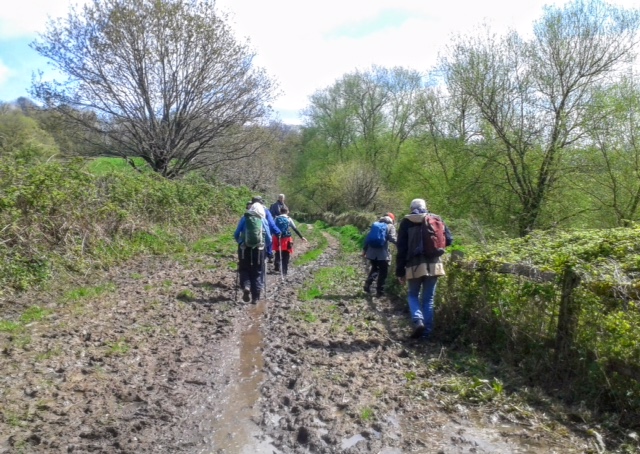 … in the mud
The walk around the Ardingly reservoir should be a lovely stroll. The sun shone, the birds were singing and the spring flowers were blooming. But there was mud, much too much mud, causing a few falls and understandable tiredness by the time the group climbed up to Ardingly. No time today for a visit to its lovely church.
Bluebell woods
Wild garlic
The route to Wakehurst Place was also showing off its beautiful spring colours, and the initial climb uneventful. The major incident was then upsetting for all, but our walker who suffered the very nasty fall was rescued by some strong men and very fortunately was able to continue with minor injury. A great route always, but not the best of mornings.
Peter waited patiently for us to arrive at Wakehurst Place to join him in the cafe for lunch. There is a good place to eat a packed lunch, but our group were welcomed by a swarm of bees. Yes, we were at 13 again.
More bluebells
After lunch we were 11 walkers and the return to Balcombe was nearly incident free. (A couple of muddy people would disagree). We did not interrupt the cricket whilst passing, in fact a very good slip catch was noticed by those who care. (I can explain if you like). There were more beautiful flowers and views, our trains were a little crowded but efficient, and overall a lovely day out – except for those falls, but all were ok.
Tony, with thanks to Christine M for the photos.