On 8 April, Easter Saturday, nine of us met up for a ramble at Witley station. Having left London on a bright morning we found the countryside shrouded in mist, but there was optimism in the air that soon the sun would show its face, and so it did.
Morning Mist
Listening to the sounds of nature
The morning section of the walk follows paths through woods, along the outer perimeter of the Enton Hall Estate, across the West Surrey golf course near Potter's Hill, along fields before entering Hydon Heath. On and off we had to negotiate muddy paths – that was to be expected after the rain a couple of days earlier. At a three-way path-junction, we stopped for a short break to have some chocolate Easter eggs before following the Octavia Hill trail – the waymarks have a picture of her face instead of an arrow. Once leaving Hydon Heath we continued through Busbridge Woods, up a steepish hill, before going past High Barn. Only another 40 minutes to lunch but little did my companions know that we had to walk an enclosed, narrow, rather muddy path leading us towards a paddock nr Winkworth Farm before it got less messy. Also, at this point Liz told me that she had left her walking pole behind at the junction where we enjoyed the chocolate eggs. By now, alas, we had gone too far to backtrack to retrieve it.
After nearly three hours walking, arriving in Hascombe by the pond with a view towards St. Peter's Church (*) was a great relief for us all. The broad grass verge around the pond with several benches make it a perfect stop for picnickers, and two made good use of it. The rest of us went first to look at the church before going to the pub for refreshments.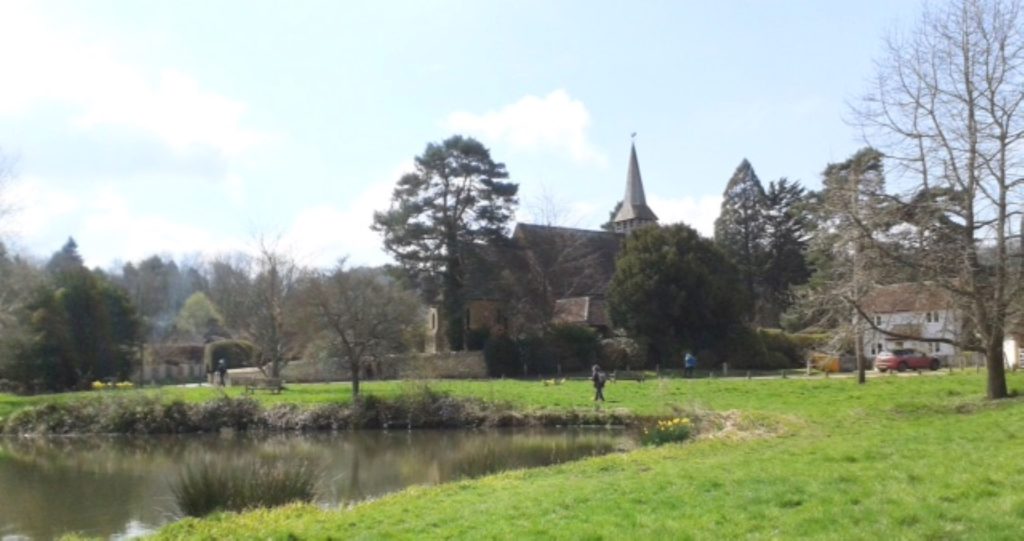 View from picnic spot, Hascombe
Hascombe pond
St Peter's Church, Hascombe
Fresco at St Peter's, Hascombe
Come along!
The White Horse is a friendly place and the food was good. Although some of us had a bit of a wait for our orders, we could still commence our walk within the allocated time.
It was not long before we had to negotiate an unforgiving short but very steep uphill to reach the top of the Hurtwood Holloways Heath, joining the Greensands Way, where one can come across all sorts of creepy creatures. And what goes up must come down – and down we went through a narrow, equally unforgiving galley where it was tricky to avoid the deep, slushy mud.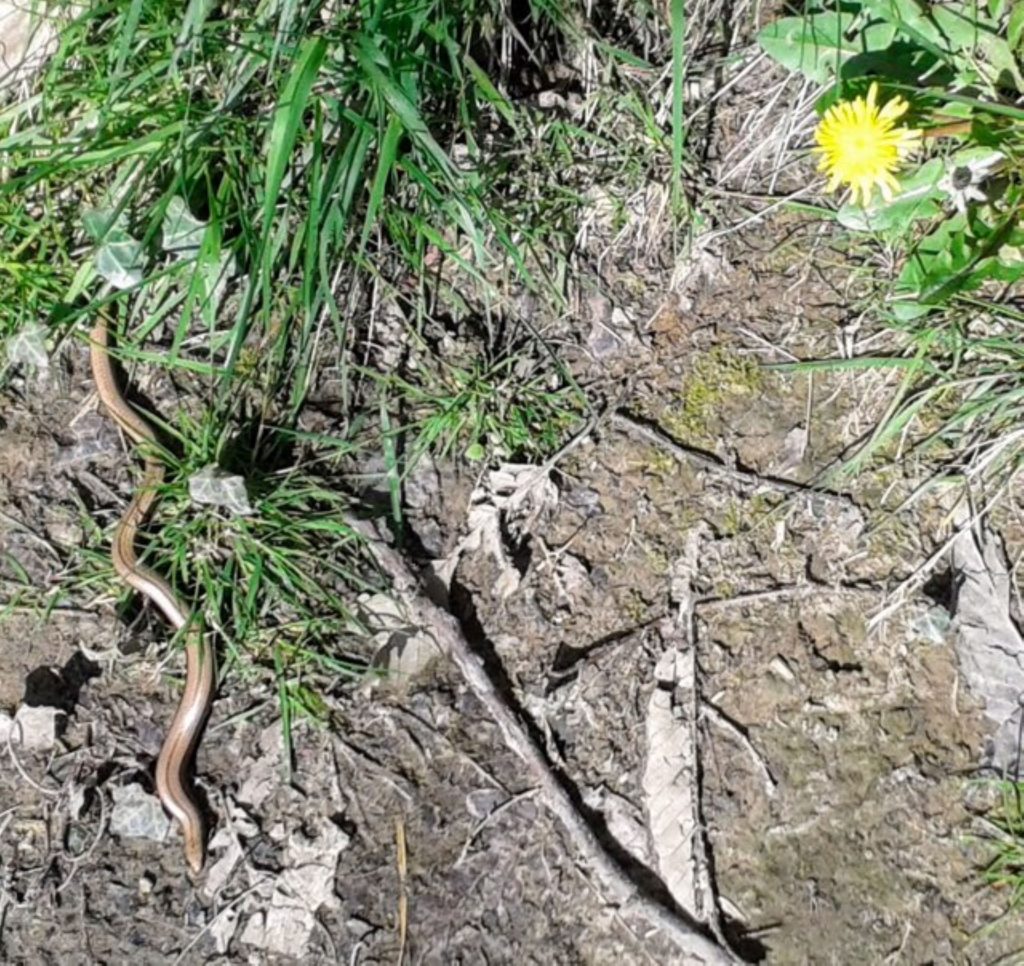 Spot the slow worm
Mud, as promised
What joy then, when we reached a more manageable section, affording us a wonderful view across Burgate Hangar towards the South Downs, then on to Vann Hill from where we joined a lengthy path towards Hambledon. A man with his pooch came towards us, held out a pole and asked me if anyone in our group might have lost a walking stick. Lo and behold, it was Liz's which he had found while walking his dog with the intention of handing it in to his local railway station as a lost property. It's difficult to convey the joy in Liz's face when she was reunited with it. Who knows – her luck may have been down to our cardinal number of 'nine' walkers.
Phew, a normal path!
View towards the South Downs
Soon after this joyful episode we arrived at St. Peter's Church in Hambledon (**), a parish church with a magnificent ancient Yew tree.
Spot the robin in the ancient yew tree
Magnolia in Hambledon village: we started with mist in the morning and ended with a display of Spring blossoms.
Now on our way back to Witley station we crossed a couple of fields leading to Hambledon old village, then through the Common before reaching the station just in time for our train. I'd like to thank the group for remaining so convivial despite some of the lesser convivial terrain we had to grapple with and also the kind locals who helped us along the way.
Sigrid, with thanks to Christine M for additional photos
(*) Info about St. Peter's church, Hascombe: https://www.nationalchurchestrust.org/church/st-peter-hascombe
(**) info about St. Peter's church, Hambledon: https://en.wikipedia.org/wiki/Hambledon_Church