25 March. Following a week of rain and a forecast for more light rain showers, we expected to be trudging through lots of mud and possibly getting wet, however, we were blessed with a fine, dry day, with a chill wind but periods of sunshine ….and, yes, mud but not very much.
Eleven walkers joined forces at Crowthorne having travelled on three different routes to get there, and so we set off on the walk much of which is part of the Three Castles Path that begins in Winchester and ends in Windsor. Our route began alongside the railway, skirting the grounds of Wellington College, on around Edgebarrow Hill in Little Sandhurst to enter Wildmoor Heath Nature Reserve. Soon we were able to see the huge and imposing Broadmoor Hospital at the top of the hill to our left, before our gradual ascent of Butter Hill to reach the Roman built Devil's Highway, reputedly so called by the tribes that followed the Romans because they thought only the devil could have built such a straight road. The Roman road once ran from London to Calleva Atrebatum at Silchester. At this point we were aware of our proximity to the MoD firing ranges as the air was pierced with numerous loud bangs. Passing, thankfully, under the busy A3095, we then turned left to enter Swinley Forest, Crown Estate Land and mostly a plantation of Scot's Pine but also incorporating family attractions such as Go Ape and mountain bike trails. We then passed by, but did not visit, the iron age hill fort of Caesar's Camp (due to the morning walk being long enough already!) and eventually arrived at The Lookout Centre well and truly ready for our lunch break.
The Lookout Centre is a science discovery centre as well as having a large outdoor playground and is popular with local families. It no longer has an indoor café but we found empty tables easily enough for our packed lunches.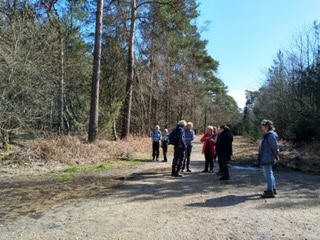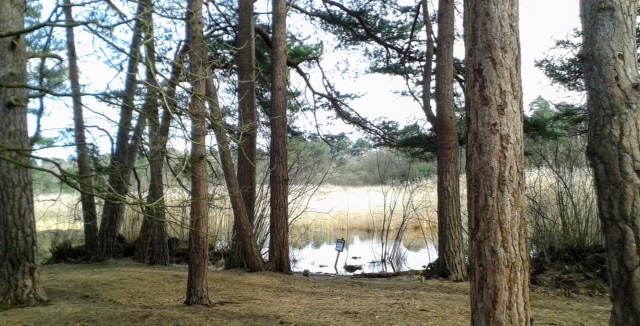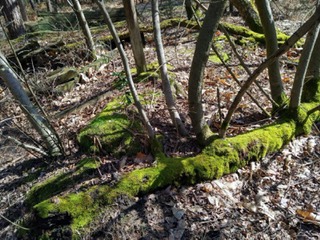 After lunch we set off for the slightly shorter afternoon walk which, after crossing the pedestrian bridge over the busy A322 into Bracknell, took us into Swinley Park, once the hunting grounds of Swinley Lodge and still Crown Estate, and then into the nature reserve of Englemere Pond. Here we skirted the picturesque lake, filled with reed beds before leaving the reserve, crossing the A329 and heading left along a fairly green track between houses, then past some modern and huge houses to Kennel Lane, lined with Wellingtonias and named as such due to Queen Anne having kept her buckhounds nearby.
Finally we reached Ascot Racecourse and crossed the track to traverse the heath with the racecourse stands ahead of us before heading to the station.
Linda and Chris. Thanks to Sigrid and Christine M for photos