A stalwart group of Morley Ramblers gathered at Richmond station on Saturday Morning 7 January – undeterred by convoluted travel routes and intimidating weather forecasts.
We crossed to the north bank of the Thames at Richmond Lock (built1894) walking through Syon Park before joining the Grand Union Canal at Brentford Lock. We were pleased to reach the warm and welcoming Fox Pub in Hanwell, where we were joined by Peter and Julia. The pub team were fantastic in looking after eighteen of us and it was very tempting to stay there all day. We met a group of women walkers from Birmingham who had been walking the length of the Canal from its starting point in Braunston in the West Midlands, delighted to be on their final leg of their 98.5 mile journey.

Our walk followed the impressive flight of locks at Hanwell (built 1794). Julia, our local guide, showed us where best to see the famous Three Bridges, designed by Isambard Kingdom Brunel in1859. The canal, road and rail deliberately intersected at this point, to facilitate the transfer of goods down to the London docks.*
We retraced our steps to rejoin the Capital Ring route, which goes along the river Brent at this point. We ducked under the soaring arches of the Hanwell Viaduct (also built by Brunel – in1836). Several members explored the Maze in the much loved ' Bunny Park' before we all headed up the hill to St Mary's Church.
We walked across Churchfield Park to the elegant Golden Manor Estate to reach the pretty Hanwell Station, now a stop on the new Elizabeth Line (opened 2021). We had covered 250 years of transport history in a mere eight miles.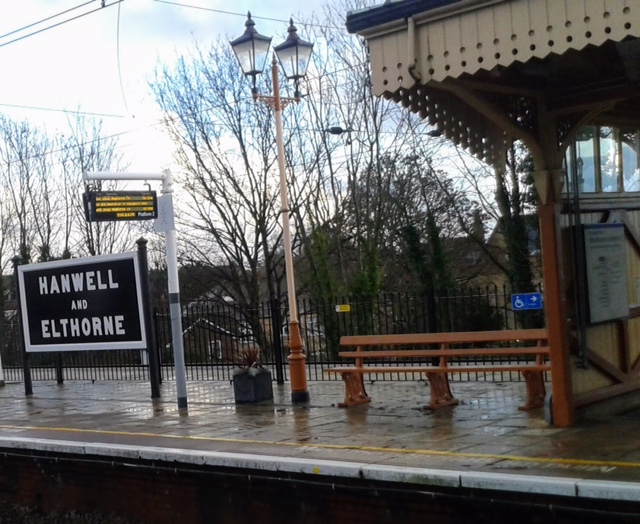 Sue C. Thanks to Christine M for pictures. *Thank you, Wikipedia.