29 October. After a delay of 30 minutes, waiting for the replacement bus from Haslemere, we set off from Liphook. We were soon in beautiful woods of various deciduous trees.  There were lovely autumn colours, both of the leaves on the trees and on the ground.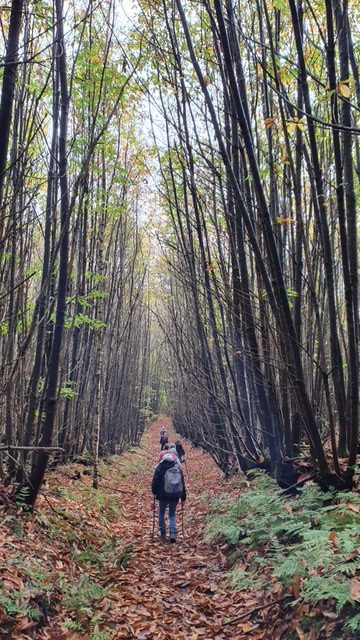 We caught a glimpse of Shulbrede Priory, now a private house. As we passed its pond, the geese honked loudly warning the inhabitants of possible intruders!
At lunch, the 12 of us became 13 and all of us managed to complete the walk. Those having picnics had seats on the lovely green in Fernhurst. Those eating in the pub were glad that we'd booked and pre-ordered as we saw that other people who hadn't booked were unable to order food.

After lunch, we spent 10 minutes looking at the church which had a beautiful wooden structure supporting the roof and two Norman lancet windows from the 11th century.

The afternoon was shorter, but tougher than the morning with a 1.5 miles uphill section through woods before we reached an open area and walked through a valley with lovely views.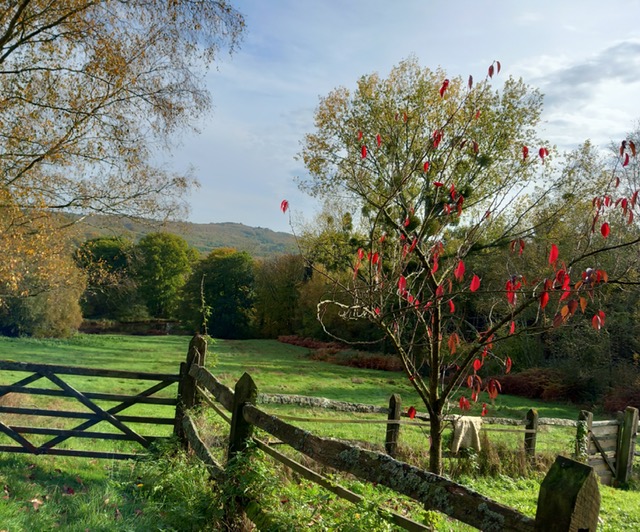 After another longish uphill section through woods, we walked down into Haslemere High Street, where some of our group stayed for tea. The rest walked on to the station for the train home.
With thanks to Mary-Jane, France and Christine for the photos.

Terry