October 15th 2022. Despite a forecast for showers and cloud, the sun shone brightly on the ten Morley Ramblers who set off to explore the redways and parkland that surround Milton Keynes.
Much derided for its concrete cows, Milton Keyes has now come of age; the beautiful trees so carefully selected in the sixties have now matured and were showing off their autumn splendour against clear blue skies.
The morning walk began by following the little Loughton Valley stream and its small, tranquil lakes formed of old quarries. We stopped for a drink at a Roman villa and then enjoyed the contrast of some modern MK architecture imitated and displayed in a series of bird boxes along the disused railway trail. A further architectural surprise came as Sue, in search of a quiet spot, stumbled upon a fully restored windmill.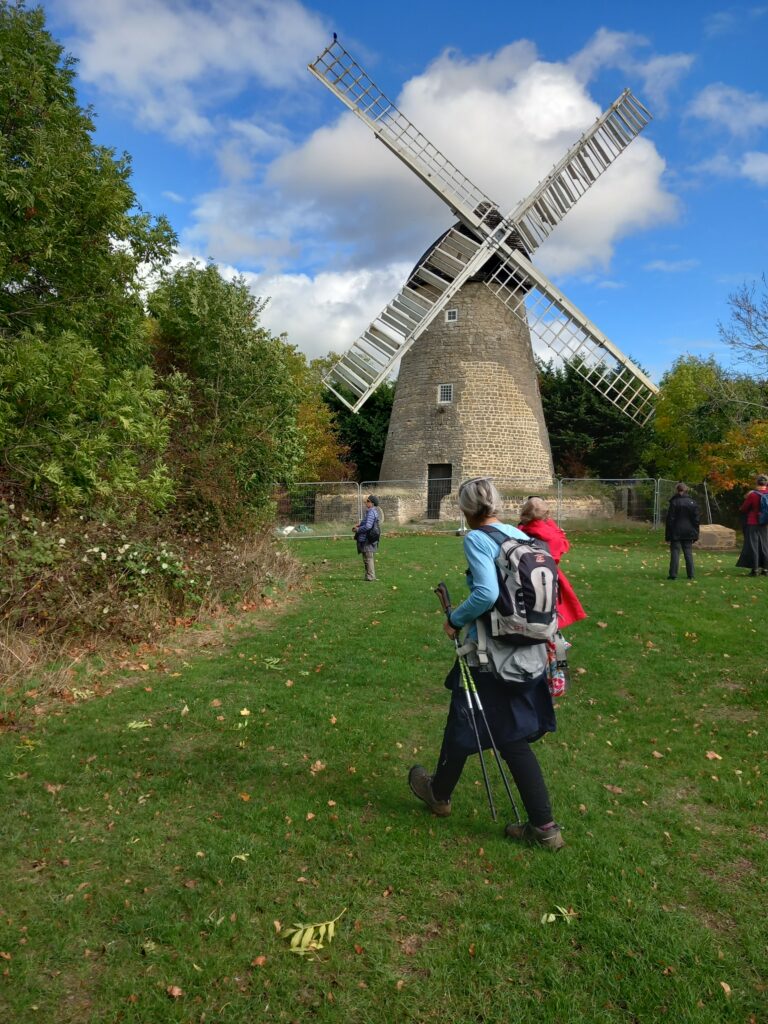 Our lunch stop was the thatched Nags Head in the picturesque village of Great Linford – one of the many former villages of MK that retains unspoilt its original character. We decided this pub scored highly for the size, price, speed and general scrumptiousness of its meals, which we ate outside despite short lived gathering clouds.
We set off again to follow the Grand Union Canal and enjoy more arty installations en route. As Londoners we were impressed with the almost complete absence of litter along our ten mile walk; the one plastic bag we spied floating in the canal turned turned out to be a sleeping swan, its head fully tucked under its wings!
We turned off the canal, regretting the closed café in the Camphill Community, and made our way up steps to the MK peace pagoda to walk through Willen which boasts large lakes, home to water sports and general public jollity.
After an essential ice cream stop, the walk concluded by traversing another extensive public park; Campbell Park extends right to the city centre where we had tea at the Art Gallery and caught the bus back to the station.
I am glad to say that those who had been sceptical about a Milton Keynes ramble ended by being thorough converts to the sub urban charms of this now rehabilitated city!
With thanks to Christine M and Mary-Jane for photos