6 August 2022. Eight people started (and finished) this walk, all of which is on the north side of the railway line. After a brief detour to avoid a path blocked by brambles and nettles, we joined the "Brenda Parker Way" for the whole of the rest of the walk. It is designated on the Ordnance Survey map as a 70 miles national recreational route. Brenda Parker was the Footpath Secretary of various Hampshire ramblers groups for almost 40 years.

It was a very sunny day with little cloud cover, but a cooling breeze helped to keep us from becoming overly hot. The walk was over flat terrain with some lovely views of gentle rolling countryside.

We passed a shabby hut labelled 'Old Gits Gun Club', looking around us to make sure there were no old gits taking aim towards us.

After passing through a field with some lovely small stocky horses with young foals, we stopped for a water break next to the River Whitewater, with the gentle sound of running water.

Soon after, on the edge of a wood, we heard a strange sound like a child shrieking. However, we realised it was the alarm call of a bird when a large red kite appeared just above us with its red body and white circles on the underside of its wings very visible in the sunshine.

It was very dry underfoot with big cracks in the ground of the fields we crossed.

Fortunately, the open fields alternated with cool paths through woods.

At Rotherwick village, four of us had an excellent lunch in a proper village pub (the Coach and Horses) which was very welcoming to walkers and which happily filled our water bottles with tap water. Four others had a picnic lunch, then joined the rest of us in the pub for a coffee or a pint of beer and were made just as welcome by the pub.

We then had a short visit to the church which had a 13th Century chancel and a 15th Century nave with a beautiful wooden roof.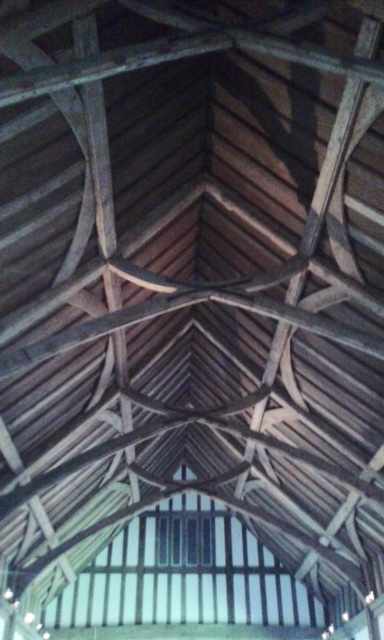 Shortly after leaving the church, we came to an extraordinarily beautiful field of sunflowers, where we paused to appreciate the gorgeous sight.

A little later we reached a special 20 minute section where we criss-crossed wooden footbridges and walked beside the River Loddon through dense woodland with the way ahead dappled with sunlight. We stopped beside an open part of the river and were mesmerised by long undulating lime-green water grasses.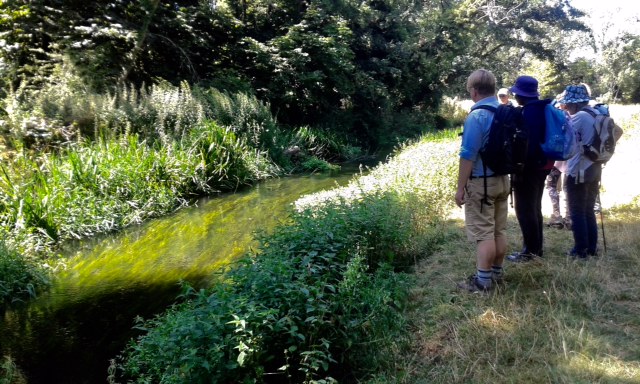 After crossing a fast flowing mill stream, we took a short diversion to look at the mill stream pass powerfully through what had been the mill. The relatively new owner of the mill (now expanded into a beautiful house) was very welcoming and said he was hoping to install a mechanism to turn the hydropower into electricity.

A long section through the sides of 8 fields led to the crossing of the very busy A33, followed by a lovely straight track that had been grassy before the drought. After a couple of fields, a footbridge over the river and some walking along tracks and country lanes, we arrived at Bramley station about 4.15pm for the train to London via Basingstoke.

Terry (Many thanks to Christine for the photos)