Saturday 14th May. Pulborough to Amberley
Thirteen of us met up at Pulborough Station, on a warm sunny morning with no rain forecast. We passed through some of the older part of the town before turning south and entering the large meadow area which surrounds the river Arun. The river is now contained between raised banks, but the club has had to make large diversions in the winter months when the whole area becomes flooded. Our path rose to pass through the RSPB reserve, reaching the tiny Wiggonholt church, hardly altered since it's construction in the 12th century. Its roof is clad in stone slabs, brought from Horsham – quite an undertaking in those days. We passed through attractive woods with bluebells and up to Parham Airfield. We walked along the grassy strip , with planes and gliders taking off and landing just yards away . One of the pilots was only too pleased to show us his glider and explain its operation. Some of us lunched in the nearby Crown Inn where we we made very welcome. We sat and chatted in the garden, enjoying the warm sun. Reluctantly we set off west, through Parham Park with its lovely Elizabethan house set in a large deer park. It has been owned by the same family for about 100 years and is still a family home. None of us had visited the house itself and I for one added it to my to do list. After a short ascent, we reached the long lane that leads to Amberley village. This has a a wonderful collection of calendar worthy old houses with cottage gardens and creepers in bloom to match. The village shop was advertising local asparagus and I suddenly realised that I was walking alone. It was some time before the group came together again and we completed the final section along the Arun River through lush meadow with views of the pretty hamlet of Bury and its church on the other side. I had hoped, and indeed promised that we would have tea at the famous Amberley tea rooms, but sadly we missed last orders at 4.30. Just time for some of us to have a swift half at the pub before catching our train back to London. A lovely day out – thanks to all who came.
Thanks to Christine, Julia and Mary Jane for the photos.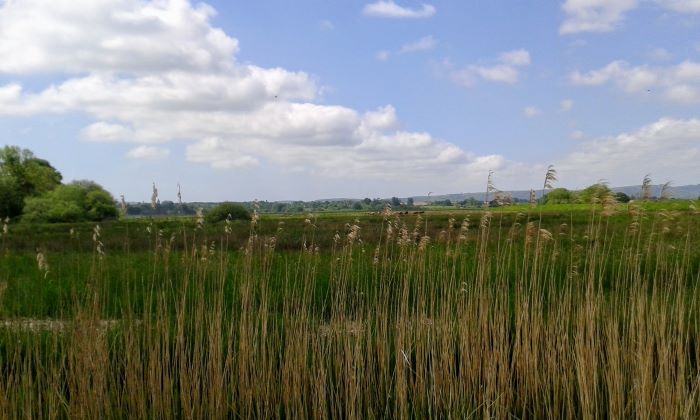 Mike