The River Lea is not the largest or prettiest river, best known for its slow progress through North-East London providing easy walking alongside its neighbouring canal or 'cut'. At Harpenden it is in it's youth and therefore our occasional sitings on this walk were of a busy stream, especially after the fairly heavy rainfall of previous weeks.
The river valley is wide in parts, but never steep, but the walk manages to find one short and sharp incline providing the best views in the morning. Before the climb, the disused railway track leads in the direction of Wheathampstead, not our lunch stop, but a chance to see some historic buildings in the attractive village. St Helen's church has an unusual spire and is best known for its memorial to the Garrard family. Apsley Cherry-Garrard is the author of 'The Worst Journey in the World', an account of the ill-fated expedition to the South pole in which Scott lost his life. (A fascinating story but scientists do not necessarily make the best writers!).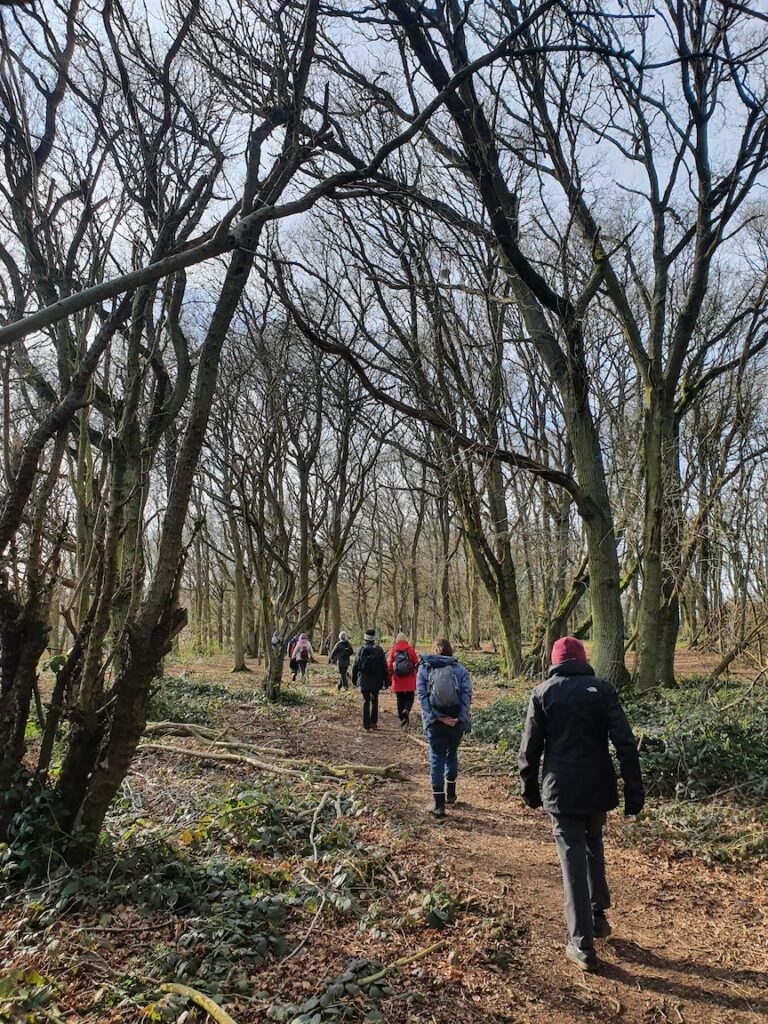 Another pretty part of the Lea directs us towards Devil's Dyke, one of the most visible parts of a set of defensive earthworks constructed prior to the Roman invasion of Britain. It's main defence to our walkers was mud, a feature of the morning before we reached our lunch spot at Nomansland Common opposite the Wicked Lady pub/restaurant.
Eight of our group, including one guest had a booked table for lunch. The other five ramblers were able to gain a seat before we set off on the return to Harpenden. The sun was still with us as we passed the cricket pitch and wound a route through woods to some more open fields. The usual debate about the crops was answered by stopping a large tractor. The friendly driver said it was mostly rape.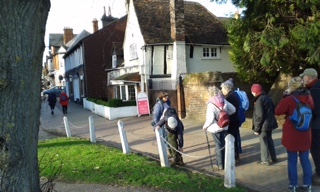 A lane takes this walk to Harpenden Common, a very large expanse of flat, largely open land with many trees making the route more interesting. Harpenden itself provides a welcoming end to the walk with many options for refreshments, shopping and regular trains home.
Tony, with thanks to Carole, Ray and Christine M for photographs.