Ramble from Apsley to Hemel Hempstead
Saturday 23 October. The weather forecast didn't promise sunshine but on the day it was a pleasant temperature for my ramble which turned out to be more adventurous than intended. Eleven walkers started out from Apsley station and made their way to St. Mary's Churchyard from where a path led us across the railway bridge and on to a golf course. Luckily some golfer shouting and gesturing from the distance stopped us from getting hit by a ball as someone was just about to tee-off in our direction (Ouch!). After passing the grounds of Shendish Manor, a footpath led us towards the M25 under-path and from there we entered a very large field which led us to Scatterbells Wood.
So far so good, but as many leaders know, some woods can become our nemesis and Scatterbells Wood turned out exactly that. Soon after entering the dense wood with narrow winding paths, we were literally led up the wrong 'wood' path trying to find an exit gate that should have taken us to paddocks. Alas, after ploughing through some quite overgrown paths we arrived at an unfamiliar corner where I reluctantly decided to exit the woods. After a lengthy walk along a large field, I had to resort to seeking help from a local man for directions to Belsize village for our planned lunch stop at the 'The Plough' pub.
Two of our walkers also assisted me with their virtual maps on their smart phones, thank you, since this route differed vastly from my original one. To our relief we eventually reached the pub for much needed sustenance. We all decided to sit in the pub garden instead of taking up our reserved table indoors.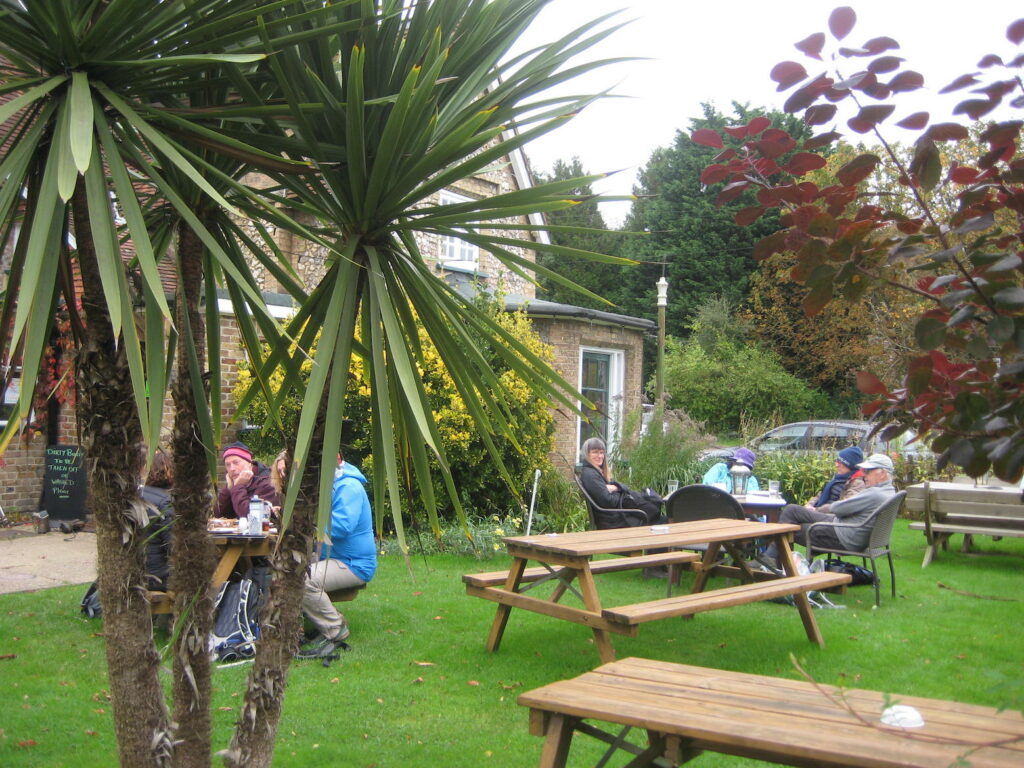 The staff at The Plough are consistently polite and welcoming to walkers. The food and drinks came quickly considering that soon after our arrival another walking group turned up and there were two large tables occupied with guests in the dining room as well.
One of our walkers who wanted to break away at lunch time was let down by the two-hourly bus not turning up at the scheduled time. After a lengthy wait she decided to carry on with us for the afternoon – another 4.5 miles. Fortified with food and drinks we picked up our path in a field along hedges before entering an ancient wood that led us towards 'Holly Hedges Lane'. After having walked for a while through the wood, I was alerted that several from my group were nowhere to be seen. I instantly back-tracked to look for them and luckily found them at a point where they were just about to go off in another direction – Oops! Mea Culpa!
I am pleased to report that thereafter, bar a brief altercation with a man whose two dogs were rather disobedient, we had a relatively smooth ramble back to Hemel Hempstead station. The route took us via Bovington and most of the paths were along the edges of large fields where one could enjoy the expanse of the country side. We came across a herd of sheep and some rams with impressive horns.
The trees were already showing obvious signs that Autumn has begun. A house with two pheasants on its roof was also spotted, begging the question what they were made of, straw or wood? Or could they have been real, having just flown up there to pose for us? Who knows!
Photos Sigrid, Ginny and Christine M (with thanks to both). Much credit also has to go to all my walking companions on the day for having shown considerable patience during the misguided sections of the walk. Sigrid.