Alexandra Palace to Abney Park Cemetery
16 October. We climbed up to the Palace through heavy drizzle and the views across London were masked by heavy clouds. Two of our three guests live locally and were able to entertain us with their knowledge of the park. They very helpfully supported a latecomer to catch us up at the cafe in Highgate Woods.
The woods are reached via a leg of the Parkland walk, a former railway line which also provides the green link from Queens Wood to Finsbury Park. See parkland-walk.org.uk. for details of the history and all the work done by volunteers. For a brief time in Highgate Woods our party numbered 20, but some took a shorter route to Highgate station to avoid the ups and downs of Queens Wood. The mixed woodlands were beginning to show their beautiful autumnal colours.
Our backmarker valiantly updated all the comings and goings and 19 walkers resumed the path to Finsbury Park for lunch. Many were surprised at the extent and facilities of Finsbury Park, perhaps associated more with those loud and noisy events which may hopefully soon return. 18 of the group reached its further corner after lunch for a stroll and brief mud jump along the New River.
We diverted at Woodberry Wetlands to discover more of this peaceful haven for wildlife, especially birds, so near the centre of London. The New River walk continues, and the Capital Ring signposting then leads you down a short section of busy road to reach Clissold Park. The spire of Stoke Newington Church stands tall in the far corner of the park, having been visible for much of our journey after lunch. From the churchyard, the final part of this walk is down the High Street to reach Abney Park Cemetery.
This 32 acre site is the last resting place of around 20,000 people. It was also laid out as an arboretum and contains some 2,500 species of plants. Our visit was brief and noted possibly the most famous monument to the Booth family. Amongst others was this Victorian lion-tamer.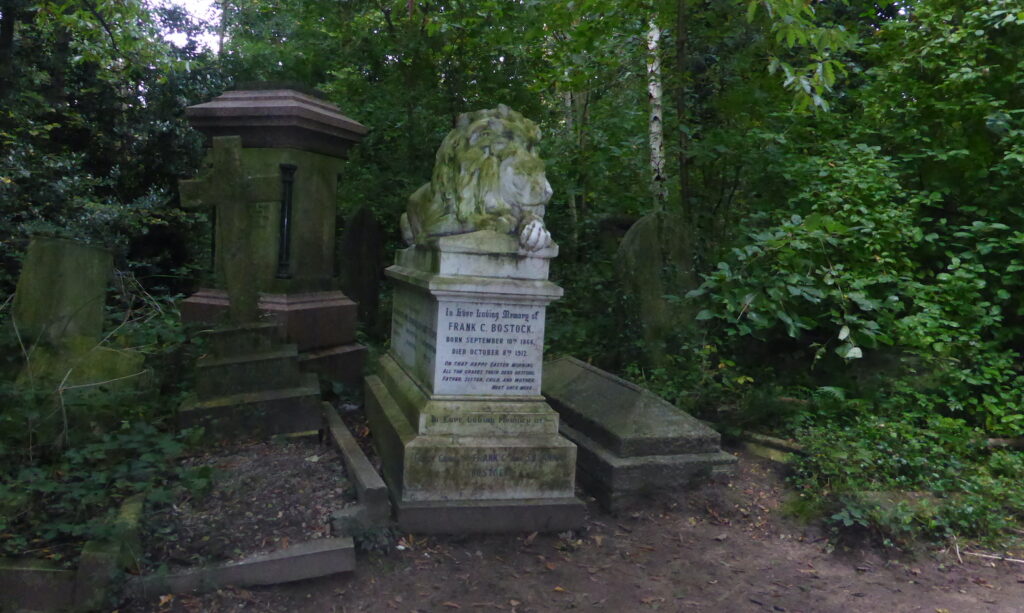 We did not have time to find the grave of Samuel Morley, hosiery manufacturer, MP for Nottingham, supporter of Dissenters' causes and who endowed Morley College for adult education. Tony. (Thanks to Christine M, Mary-Jane and Sigrid for photos.)