25 September. We had 19 on the walk. It was good weather for walking, no rain and not too hot. Everybody arrived safely at Godalming station on time. After a 45 minutes stretch along quiet roads, we paused at the lovely green at Upper Eashing with a beautiful old cottage opposite. 
After a couple of blind bends in the road, where we had to be careful, we crossed a field and down through a wood to walk along the bank of the River Wey to the 13th Century Eashing Bridges, where we stopped briefly. 
We crossed a footbridge over the A3, then across fields until we saw Peper Harow House (built in 1765) and it's 300-year-old cricket pitch. We passed its ice house, the big pond of goldfish and the coffin rest at entrance to the churchyard of St Nicholas Church. Shortly after we had a look in a lovely large courtyard with its dovecote, barns and mediaeval granary on huge stilts. Nearby we saw an Edward VII post box in the wall.

A quiet road led us to the village of Shackleford, then a long stretch over fields through gently rolling hills until we reached our lunch stop in Puttenham. Unfortunately the dropout point near here didn't work as some road diversions meant the bus stop couldn't be found! Fortunately, those who tried to find it, got to Guildford safely.

Most of the afternoon was along the North Downs Way through woods. At one point we crossed under the modern A3 and then under a Lutyens bridge with big crosses, which is on the old bypassed A3.

Shortly after that we reached the Watts Gallery in Compton and we took a short detour to visit the Watts Cemetery Chapel and cloisters. This is a serene spot on the side of a hill. The chapel is Grade 1 listed and is an unusual mixture of Romanesque Revival, British Art Nouveau and Celtic Revival. The interior of the chapel has been controversial, with some people loving its walls completely covered with extraordinary paintings and others finding it soporific.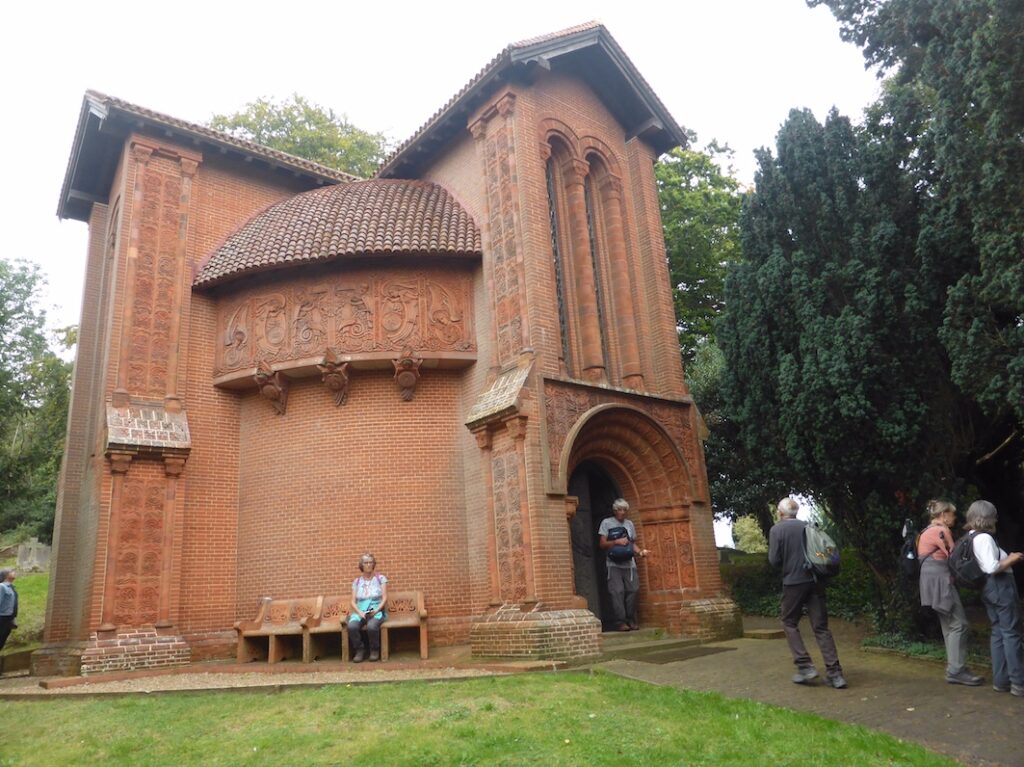 Some walkers chose to catch the bus to Guildford and others to visit the Watts Gallery and then catch the bus. That left 13 of us to complete the walk. 

There was a long stretch through attractive woods with a mixture of tree varieties, followed by a walk along the side of a green valley. We then went down to the River Wey Navigation and walked beside it into Guildford, arriving just in time to catch the 16.29 train to Waterloo.

Terry (Thanks to Christine M and Sandra H for the photos)