Bearstead to Hollingbourne
14 August. This deceptively innocent route has turned out to be one of the Group's more demanding walks; which could explain why we met no other ramblers on the footpaths, despite perfect walking weather and trails that had dried out considerably over the past week.
Earlier this year the recce had discovered that two footpaths had been ploughed over for maize – now head high – and a frisky stallion romped in the way of another path. The resulting detour lengthened the walk which, coupled with a rainy week and rail replacement bus from Maidstone, apparently deterred some from venturing out. So it was a stalwart group of five who set out to conquer this part of Kent.
The climb to Thurnham up the scarp slope of the North Downs is steep and seems relentless but the view from the top is rewarding. Stopping to eat a snack at the trig point in White Horse Country Park we were entertained by paragliders who were out in force – magically joined by a couple of red kites also cruising the up drafts.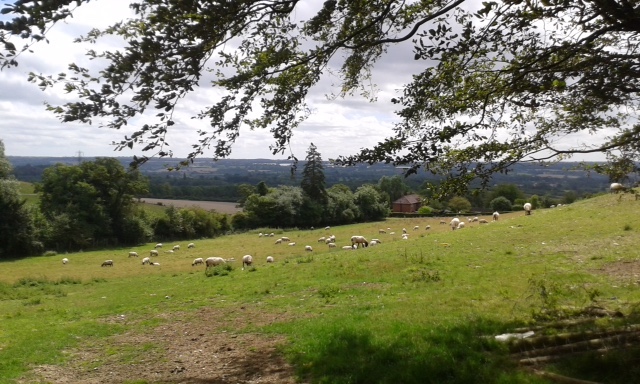 We joined The North Downs Way, which at this point suffers an identity crisis and behaves like an inland version of the North Cornish Coastal Path: steep up is followed by steep down, many times with precipitous drops on one side. We toiled determinedly on, appreciating the shade and good views, to reach the pub mid-afternoon for a well-earned drink and substantial helpings of chips.
The second part of the walk is altogether gentler, passing through delightful ancient woodland on the Hucking Estate and crossing open country, resplendent with the rich colours of chalk downland flowers in high summer. As our route crossed The Pilgrims' Way the Dirty Habit pub offered a shaded rest area for cyclists and walkers with a tap to top up water bottles. After a brief pause we took the wooded footpath through Hollingbourne to wait for the rail replacement bus – glad to sit down but pleased with ourselves, agreeing it had been a worthwhile day.
Sue H and Daphne. (Thanks to Sue H and Christine M for photos.)