12 June. This is a circular walk, starting at Westhumble, going over Ranmore – the hill opposite Box Hill – with the lunch spot at Polesden Lacey and finishing at Dorking station. It was perfect weather, convivial company, and a beautiful walk in the Surrey Hills.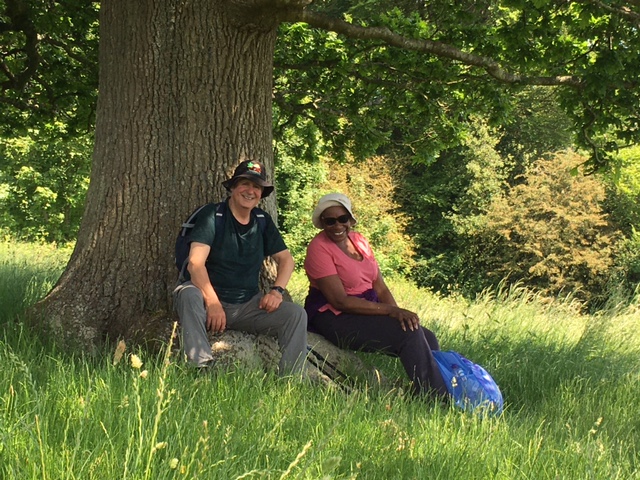 There was a slight feeling of dread as many young walkers packed the train down to Box Hill, but thankfully (for us who like a bit of peace) they headed off in the direction of Box Hill (better known) whereas we climbed up Crab Tree Lane to Norbury Park then over to the Roaring House Farmhouse, over the hill to Polesden Lacey (National Trust) for lunch. Useful to have an accessible snack bar – very good coffee – and loos.
After lunch, up to Yew Tree Farm, via a lovely path fringed with yew trees, eventually reaching the viewing points of Ranmore over distant Leith Hill, the village of Westcote and Dorking. Thence descending with views of Denbie's vineyards to Dorking. 
Altogether a delightful day with a high 'glad to be alive' factor.'
Sally, with pictures by Sally and Ginny