The first Saturday in June saw 13 walkers on a 'new' circular walk from Crowthorne Station, Berkshire of approximately 8 miles. The fact that the walk was mostly through wooded areas was fortunate given the rather hot, sunny weather.
The first part of the route took us into Simon's Wood, gifted to the National Trust by local residents, Mr. Simon and Mr. Brooks in the early 20th century and we passed for a short way on the Devil's Highway, the Roman road from London to Silchester before reaching Heath Pond.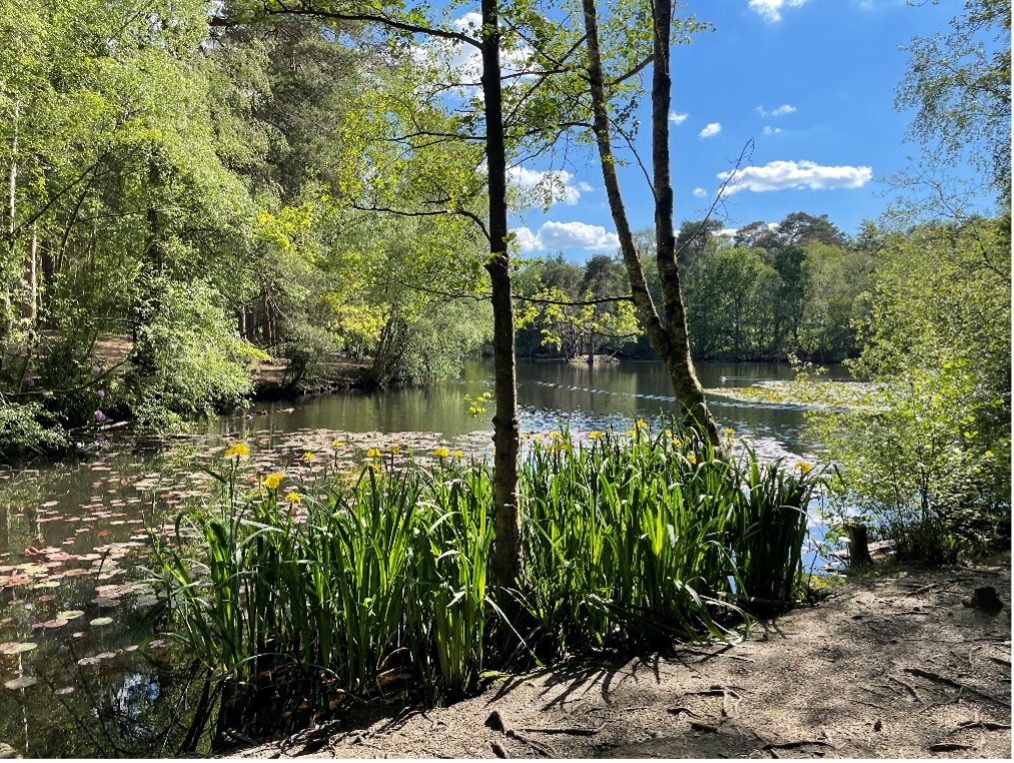 From here we headed south to enter the lower part of Finchampstead Ridges at Spout Pond, continued to Dell Road and, after a short doubling back, down the side of Colebrook Lake, good for bird watching, to the Blackwater River.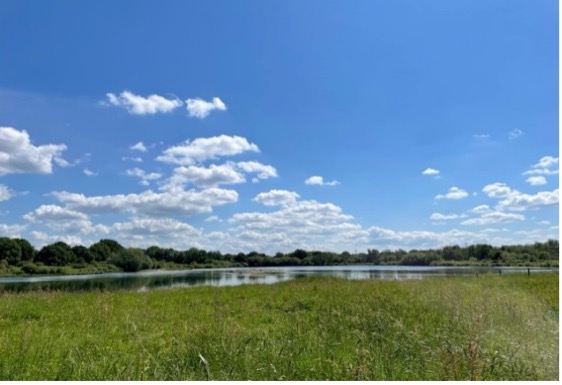 We followed the river passing old gravel workings, some of which had become a lake, eventually headed back northwards to the outskirts of Finchampstead (Finchamstede in the Domesday Book) and after a gradual upward slope through fields, reached our lunch stop at the Queen's Oak pub which is opposite the church thought to be built on the mound of an iron age fort.
Being a sunny day and still in the throes of Covid restrictions, the pub garden was busy and lunch was a little long but those who had the trout salad said it was delicious!
After lunch our path could have taken us diagonally across a field with cattle and probably a bull, judging by the sign, though as they were all sitting in a corner it was difficult to be sure. As the route around the outside of the field was hardly any longer the consensus was to avoid the cattle!!
Gradually upwards to Wick Hill now, followed by the muddiest path but thankfully much dried out since the recce, along a road, fortunately quiet as currently closed to through traffic and then back into Finchampstead Ridges at the higher end. This is an area acquired by the National Trust in 1913 through local public subscription from the then owners of the Times newspaper.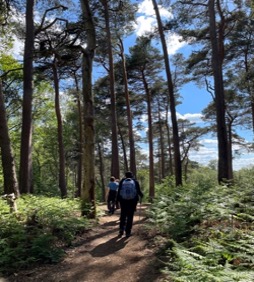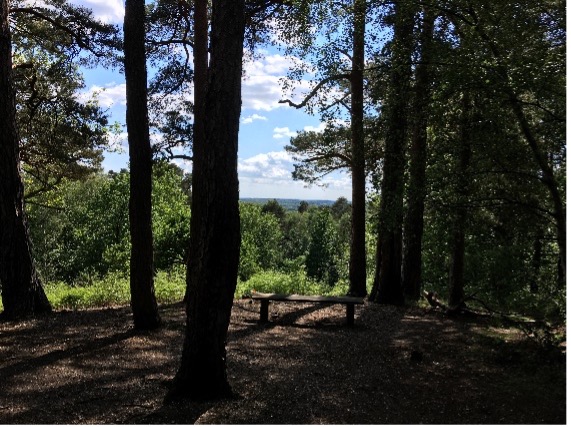 As we re-entered Simon's Wood there was a view down the long road to Crowthorne lined by huge Sequoias (Californian Redwood) or Wellingtonias. We meandered through the woods and skirted the heathland back to Heath Pond and finally down the ride towards the station, in time for the hourly train by just under 10 minutes.
Thanks to Ginnie for the wonderful photos (except the last not so good one attributable to me!).
Linda